Story by: Spc. Rachel Sanzo - 42nd Infantry Division Public Affairs
Dated: Wed, Aug 22, 2012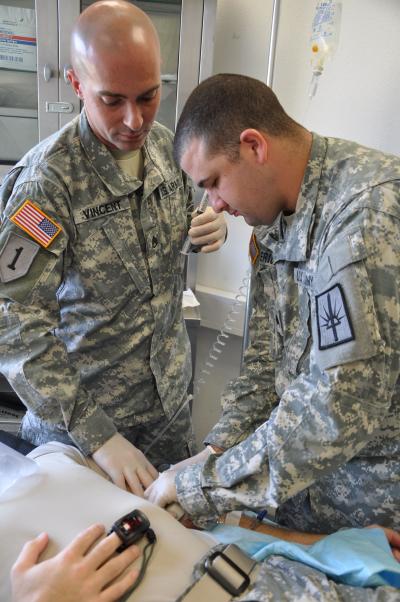 HOHENFELS, GERMANY -- New York Army National Guard Sgt. 1st Class William C. Vincent and Sgt. Michael P. Boulerice, medics with the 466th Area Support Medical Company from Queensbury, administer an IV to a patient at the Joint Multinational Readiness Center medical clinic here, August 22, 2012.
---
HOHENFELS, GERMANY-- Seven New York Army National Guard medics traveled 4,000 miles for to help care for patients at the Joint Multinational Readiness Center (JMRC) here.



The Soldiers with the 466th Area Support Medical Company (ASMC) from Queensbury, NY, located at the edge of the Adirondack Mountains, arrived August 13 to provide medical support for Soldiers deploying to Kosovo. They will be on the job until Sept. 3.



The New York Guard Soldiers are filling in for Reservists from the 4203rd United States Army Hospital Unit from Nashville, T.N. Those medics will deploy to Kosovo with the 218th Maneuver Enhancement Brigade, South Carolina National Guard in September. The deploying medics are currently receiving additional medical training in other areas of Germany.



When the Reserve medics identified their need for help, the 466th ASMC was happy to provide their assistance.



"We're really excited to be helping out here in Germany," said Sgt. 1st Class William C. Vincent, a Queensbury resident and a medic with the 466th ASMC . "I'm glad that our unit was the one they called, and that they trusted us enough to take over for them."



The temporary medical clinic staff is composed of three physician assistants and four medics, and contains enough troop medical clinic sets to treat between 500 to 700 patients, depending on the amount of treatment they require.



"Our clinic is what we call a level one clinic, meaning that we can perform minor surgical operations," said Maj. Peter N. Fish, a Staten Island resident and the officer in charge of the 466th ASMC team. "Most of our patients will probably be treated for respiratory infections, orthopedic issues, and minor fractures. If they require any treatment beyond that, we will refer them and provide transportation to a local civilian hospital."



Fortunately for the 466th ASMC, their medics and physician assistants have only had to treat a handful of Soldiers for minimal injuries and ailments since they arrived in Hohenfels.



"The less action that happens in our medical clinic, the better," Fish said. "As long as we're bored, it means that our Soldiers are healthy and well cared for. We will train and learn how to treat Soldiers the best we can in our down time."



When it comes time for the Soldiers of the JMRC medical clinic to depart Hohenfels and head back home, the 4203rd Tennessee Reserve Soldiers will be heading to Kosovo for the start of their deployment.



"We're glad we've had the opportunity to help out these Soldiers," said Maj. Warren Sheprow, a physician assistant who lives in Queensbury. "We're happy to have met them and sincerely hope they return home safely."

Media