Story by: Sgt. 1st Class Raymond Drumsta, JFHQ, New York Army National Guard -
Dated: Sat, Sep 14, 2013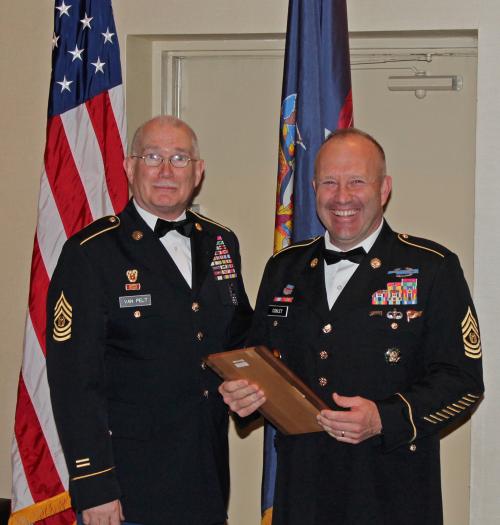 Army National Guard Command Sgt. Maj. Brunk W. Conley (right) poses with former New York state Command Sgt. Maj. (retired) Robert Van Pelt (left) at the Fifth Annual Capital District of New York AUSA Soldier Recognition Banquet here on Sept. 14. Conley spoke at the banquet and the New York Army National Guard's 2013 Senior NCO Leadership Seminar earlier in the day. Conley is holding a plaque Van Pelt presented to him for participating in the events. (photo by Staff Sgt. William Valenza, New York Army National Guard)
---
SARATOGA SPRINGS, NY - It's all about the troops and their loved ones, said Army National Guard Command Sgt. Maj. Brunk W. Conley.
Conley stressed that theme and others in his address to New York Army National Guard leaders gathered at the Fifth Annual Capital District of New York AUSA Soldier Recognition Banquet here on Sept. 14. Conley also spoke at the 2013 Senior NCO Leadership Seminar here earlier that day.
"It's all about the people," he said solemnly. "Tanks, helicopters, rifles, weapons systems...none of that really matters if you don't have the people."
Among other things, Conley served with the 75th Ranger Regiment at Ft. Lewis, Washington. He later joined the Oregon Army National Guard, rose through the ranks to become command sergeant major of that organization and was selected as the 10th Command Sergeant Major of the Army National Guard about a year ago.
About 200 senior officers, warrant officers and non-commissioned officers attended the conference, which included training sessions on various subjects. About 175 of the leaders and their families attended the banquet, and Conley said he welcomed the chance to speak to them.
"You're my family," he said. "You're not Oregonians, but you're the next best thing."
Drawing on his deployment experiences and other observations, Conley drew applause and laughs from the audience. Ironically, it was a lack of troops which began Conley's relationship with the New York Army National Guard. Soldiers from the 1st Battalion, 108th Infantry were called up to fill out the ranks of his unit when it deployed to Iraq, he recalled.
"And they were warriors," Conley said solemnly. "And they went into combat with us. And that was the first group I met from New York, and they'll be Oregonians the rest of my life."
Conley went on to describe the New York National Guard, which he's had other opportunities to work with and observe, as "one of the finest organizations in the world" and "beyond compare."
"You do phenomenal things," he said. But such achievements are only possible with the support of service members' loved ones, he stressed.
He saw the New York National Guard in action during Hurricane Sandy, he recalled.
"They're always ready, always there," he said.
In the end, it all comes down to the troops, Conley said.
"You can't take a full combat unit into harm's way without the Soldiers," he said. "We can never forget that."
Nobody remembers equipment, like a "favorite tank," after a deployment, Conley quipped.
"You remember that young specialist who did the most amazing thing you've ever seen, selflessly," he said.
If not for the part-time National Guard Soldiers, full-time National Guard Soldiers wouldn't be employed, he emphasized.
Those troops include the Best Buy employee who trades a blue polo shirt for a sand-colored T-shirt and Army Camouflage Uniform to serve his state and nation, and the New York City police officer who - in both civilian and soldier roles - wears body armor and runs toward the sound of gun fire, Conley said.
"Without that lobster fisherman in Maine who takes off the rubber boots to put on the combat boots, the National Guard doesn't exist," he said.
Conley concluded by urging the leaders to be proud, reaffirm their commitment to the National Guard and consider what it means to be a citizen-Soldier.
"It is romantic, it is noble, it is selfless," he said.
News Story: A Focus on Joe: ARNG Command Sergeant Major Stresses People, Praises NY National Guard