Glens Falls residents, Soldiers gather to march and remember deployed Soldiers.
Story by: Col. Richard Goldenberg - New York Army National Guard
Dated: Tue, Dec 24, 2013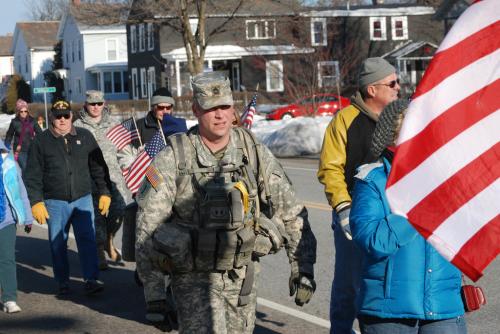 GLENS FALLS, N.Y. - New York Army National Guard Sgt. 1st Class Jason Springer from Glens Falls, N.Y. participates in the 10th annual Christmas Eve Roadmarch here Dec. 24. Springer was one of the original members of the 2nd Battalion, 108th Infantry deployed to Iraq when the event began in 2004. He has since been part of all but one Christmas Eve events. Participants from the New York Army and Air National Guard, veterans organizations, family members and community supporters turned out for the 3.6 mile march through town to support deployed servicemembers around the world. More than 1,000 participants turned out for the 2013 event, saluting the original unit members of the 2nd Battalion, 108th Infantry who were deployed to Iraq in 2004 for the original roadmarch.
---
GLENS FALLS, N.Y. -- More than a dozen combat veterans of the New York Army National Guard's 2nd Battalion, 108th Infantry joined the thousand marchers here as honorary marchers in the 10th Annual Christmas Eve Roadmarch.
The Soldiers joined more than 1,000 fellow National Guard Soldiers, Airmen, veterans, families and community members to show their support of troops serving overseas during the holidays.
The march first started in 2004 with humble beginnings, explained event organizer Art Coon, a retired Army National Guard Sgt. 1st Class who served as the regional recruiting NCO.
"It was a fluke," Coon explained of the first year's success. "This all started ten years ago when the 2-108th went to Iraq. I wanted to do something to honor their sacrifice, so I decided to put on a ruck and head out for this roadmarch." "I thought I would walk by myself and Julie (Coon's wife and supporter of the unit's family readiness group) would take a photo for the guys overseas."
That first year, some 15 or so family members came out to join the Coons for the Christmas Eve event. The annual Christmas Eve tribute for the troops has grown in size each and every year since then.
When the Soldiers returned for their homecoming roadmarch in 2005, momentum was already in place from families, veterans and community members to spark the tremendous growth in each year, Coon said.
Among those marchers in subsequent years has been Sgt. 1st Class Jason Springer, a Glens Falls resident and veteran of the 2-108th Infantry deployment to Iraq.
It is great to see the numbers increase with each year, said Springer, who has marched in every year but one. Then he was too ill to join in the 3.6 mile road march.
"This road march has undergone so many changes over the years," Coon said. "We've had international marches where our National Guard Soldiers were deployed, first in Guantanamo Bay, Cuba and last year in Afghanistan. This year Soldiers deployed to Kuwait from the 42nd Combat Aviation Brigade join us for their own road march."
Marchers wear bands each year, carrying the names of deployed Soldiers or fallen members from Iraq, Afghanistan and all of our nation's past wars.
The march has its own share of sadness as well, Coon said.
For Christmas Eve 2012, Army Lt. Col. Todd Clark from Guilderland, N.Y. joined the marchers to show his support of fellow Soldiers. Clark was killed in action in Afghanistan while serving as an Afghan Army advisor with the 10th Mountain Division just six months later in June 2013, he said.
The annual event has consistently drawn more than 1,000 supporters for half a decade or more, and receiving the additional support of the Glens Falls Civic Center and city police department to help with the crowd.
"The roadmarch has grown each and every year, it's never gone down, which says a lot about this community," Coon said.
News Story: New York Army National Guard Soldiers Participate in Holiday Road March