Story by: Sgt. J.p. Lawrence - 42nd Infantry Division
Dated: Fri, Apr 4, 2014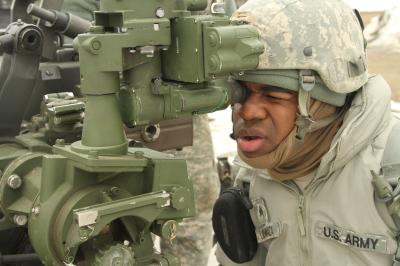 FORT DRUM--Sgt. Kelvin Lopez, a gunner with Battery A, 1st Battalion of the 258th Field Artillery, adjusts the aim of Gun 4 while training in the rain and snow at Fort Drum, N.Y., April 5. Lopez, a Middletown, N.Y., resident, fired the 105-millimeter howitzer for the first time later that day. Read more: http://www.dvidshub.net/image/1231801/new-york-army-guard-artillerymen-fire-big-guns-fort-drum#ixzz2yJM5g3iV
---
FORT DRUM, N.Y.- New York Army National Guard Soldiers from the 1st Battalion 258th Field Artillery endured rain, snow and Fort Drum mud in order to send rounds downrange during weekend training April 3-6.
"When those guns go off, it's going to be fun," Spc. Daniel Bendettie said. Bendettie pointed to the line of seven 105-millimeter howitzers nearby. "When you hear the woom! woom! woom!"
For now, however, the cannons stayed silent as Soldiers of Alpha Battery, 1st Battalion 258 Field Artillery trained in the notorious rain and snow of Fort Drum, N.Y. on April 4.
The troops had been waiting to shoot all day.
The day began in a frenzy as they emplaced their howitzers as rapidly as possible. The rest of the day was spent adjusting the cannons' aim and waiting for permission to shoot. Each team of soldiers worked together to keep the weapon ready as the rain fell and the mud got muddier. "The artillery is the king of battle," Sgt. Michael Kovalik said. Kovalik is an ammo loader on Gun 4. "Even though the infantry likes to take credit, we attack from above," he added.
Battery A is part of the 258th Field Artillery Regiment, which fought in the War of 1812, the Spanish American War, the United States Civil War, World War I, World War II, Operation Iraqi Freedom and Operation Enduring Freedom.
The unit uses the M119 Howitzer, a lightweight artillery piece that can be easily airlifted by a UH-60 or dropped by parachute out of a C-130.
The gun can pump a 105 millimeter round more than 8 miles downrange and do it eight times in three minutes if need be. The M119s of the 1-258th are the big fist of the New York Army National Guard's 27th Infantry Brigade Combat Team.
The troops shivered in their cold-weather clothing as rain began to fall again.
Sgt. Robert McNair, once a gunner from Long Island, prepared the ammo during what was his last drill in the National Guard. His replacement, Sgt. Kelvin Lopez, sat as he prepped to fire the weapon for the first time.
It was a bittersweet moment for McNair, who reminisced and bragged about when he was fastest gunner around. "When you're shooting, you feel real powerful," he said. "It's so loud, and there's a lot of smog, and it feels like there's nothing in the world except for you and your crew and the gun."
Eventually, the battery received permission to shoot. One shot --Woom!"-- fired from Gun 4, and then another --" Woom! "--from Gun 5.
As the rain fell, the smoke from the guns drifted in the cold, stiff Fort Drum wind.
News Story: New York Army National Guard Artillerymen Fire the Big Guns in Rain and Snow at Fort Drum