Story by: Sgt J.p. Lawrence - 42nd Infantry Division
Dated: Sat, Apr 5, 2014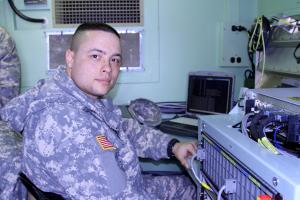 Spc. Matthew Vazquez, an Albion N.Y. resident and a signal soldier with the 42nd Infantry Division Signal Company, works on the satellite communications systems that keep troops on the field connected while training at Fort Drum N.Y. April 5.
---
Snow still littered the grounds as the 42nd Infantry Division Headquarters and Headquarters Battalion prepped for their Warfighter exercise, which will serve as their annual training, at Fort Drum, N.Y. April 3-6. Despite the weather, division troops from all over the state trained on operational command, communications and shooting.
They were preparing for Warfighter, an electronic battle simulation designed to test and evaluate a division staff on all levels of operations, communications, and adaptation on the battlefield. The event will take place in Fort Leavenworth, Kansas this summer.
The skills honed at Warfighter make the National Guard combat headquarters more versatile, agile and adaptable; especially for civil support operations to Guard members during disasters at home. Once the battle commences, operations run 24-hours a day, testing the effectiveness of synchronization within staff sections.
Not only has the unit been prepping for the Warfighter, it has also worked to qualify 22 Soldiers on the .50 caliber M2 weapon and the MK-19 automatic grenade launcher.
"As a support company, we're the life support, so training for the Warfighter is training for our larger mission," Capt. Luana Dupigny, commander of the 42nd Infantry Division Headquarters Support Company (HSC)", said. "Everything we do --" the food, the maintenance, the planning --" is for this mission."
Other Soldiers, such as HSC's mechanics, were busy preparing the gigantic tents the unit will use to form a temporary headquarters.
"It's not just Kansas," Staff Sgt. Dominick Schoonmaker, a mechanic with 42nd HSC, said of the training. "I have to train mechanics, so if we are deployed, we can support the division. As I've said before, everyone here has to learn everything."
Schoonmaker looked at his shop, which consisted of National Guardsmen from three different areas of New York: Buffalo, Troy and Staten Island.
"I enjoy this, our time here, getting us all together," Schoonmaker said, "and we always get a lot of stuff done, and we always get a tremendous amount of training done."