Story by: Sgt. 1st Class Raymond Drumsta - JFHQ, New York Army National Guard
Dated: Sat, May 31, 2014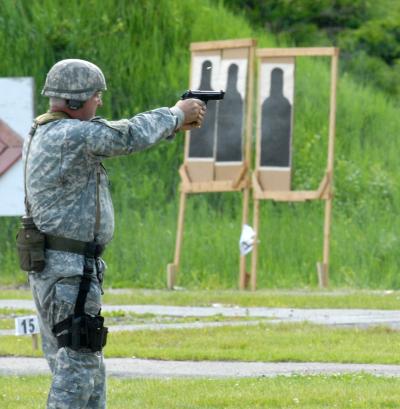 New York Guard Staff Sgt. Joseph Dee fires an M-9 pistol during the 35th Annual "TAG (The Adjutant General) Match at Camp Smith on May 31. Dee and about 125 New York National Guard members are taking part in the match, testing their marksmanship skills with weapons like the M-16 rifle, M-9 pistol and M-249 light machine gun. (U.S. National Guard photo by Sgt. 1st Class Raymond Drumsta)
---
CAMP SMITH TRAINING SITE, CORTLANDT MANOR, N.Y. -- One competitor in the 35th Annual TAG Match is such a strong marksmanship advocate that a match trophy is named after him.
In addition to almost 40 years of service to the state and nation, New York Guard Staff Sgt. Joseph Dee has a quarter-century of TAG matches under his belt. This year, Dee and about 125 New York National Guard members are taking part in the match here from May 30 to June 1, testing their marksmanship skills with weapons like the M-16 rifle, M-9 pistol and M-249 light machine gun.
At the end of the match, one team will be awarded the "Sergeant Joe Dee Combined Arms Team Champion" trophy. But for Dee, taking part in the match seems reward enough.
"I'm having a good time," said Dee, a Rochester, N.Y. native. "There's no place I'd rather be."
Marksmanship training and competition has long been a key component of National Guard training. During the 1800s, annual New York National Guard shooting competitions in New York City and at Camp Smith, then known as Peekskill Camp, were reported by the New York Times and other newspapers. The tradition continues with the TAG (The Adjutant General) Match, which gives troops the chance to sharpen their marksmanship training, engage in healthy competition, and pick top contenders to represent the state in national competitions. The modern TAG Match requires participants to employ the weapons used on the battlefields of Iraq and Afghanistan. The match consists of eight timed events that include the use of those weapons during close-quarters combat, casualty, and nuclear biological chemical (NBC) drills.
Along with the TAG Matches, Dee has competed on the state, national and international level, taking part in shooting matches in Canada and England. He's double-distinguished in rifle and pistol, and has earned the National Guard Chief's 50 Marksmanship Badge three times: once in the rifle category and twice in the sniper category.
"It's in my blood," he reflected. "Ever since I was a boy and picked up a BB gun, I've enjoyed shooting."
Dee's passion for shooting went hand-in-hand with his military career. Drafted in 1966, Dee spent two years on active duty and 32 years in the New York Army National Guard,
"I always shared my marksmanship knowledge with Soldiers who asked for it or needed it," he said.
The need for Dee's knowledge went platinum after terrorists destroyed the World Trade Center buildings in 2001. As a member of the New York National Guard's Small Arms Readiness Training Section, Dee gave small-arms training to troops guarding bridges and tunnels in the wake of the 9-11 attacks.
The "Sergeant Joe Dee Combined Arms Team Champion" trophy was created at the time of Dee's retirement in 2007.
"They knew I was retiring, and they knew all the work I did to promote the marksmanship of Soldiers in New York, so they decided to have a trophy in my name," Dee explained.
The trophy is awarded to the team with highest combined score in the TAG match.
In his experience, the TAG Match draws shooters of all calibers, from experts to beginners, Dee said. The beginners always need help, which yields another benefit of the TAG match, he added.
"They can bring back the knowledge they gain here and share it with their units," he said.
Dee now serves in 21st Engineers of the New York Guard, a state volunteer force which augments and supports the New York National Guard as required with manpower and skills. When asked, Dee shared some tips from his wealth of marksmanship knowledge.
"Stay calm and concentrate on that front sight," he said sagely. "Slow is smooth and smooth is fast."
Winners will be announced in an awards ceremony after the various events conclude on Sunday, June 1.
News Story: Long Range: New York Guard Member Takes Part in TAG Match for the 25th Time