Home
JFHQ-AIR Latham
Commander's Biography
Command Chief
Master Sergeant
Education Assistance
Jobs
News
Photos
Contact Us
Major General Verle Johnston
Commander, New York Air National Guard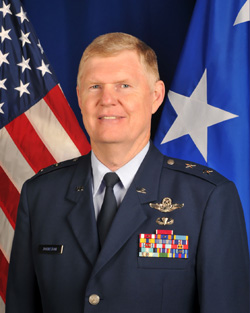 Major General Johnston is the Commander of the New York Air National Guard . He took command on April 15, 2012 after serving as commander of 105th Airlift Wing, Stewart Air National Guard Base, Newburgh, N.Y. since 3 March 2007.
In that job he directed the conversion of the Wing from 13 C-5A aircraft to 8 C-17 aircraft. He is responsible for the combat readiness of assigned units by reviewing training programs and ensuring availability of necessary equipment and supplies.
Major General Johnston received his commission in 1974 as a graduate of the United States Air Force Academy, Colorado Springs, Colo. He served 6 years on active duty primarily flying KC-135A aircraft in the Strategic Air Command.
In the Air National Guard General Johnston has flown numerous aircraft as an instructor and evaluator pilot. He has served in command as Operations Group Commander, Logistics Group Commander and Vice Wing Commander in addition to currently serving as 105th Wing Commander. He has served as an Air Expeditionary Group Commander in Antarctica for Operation Deep Freeze. He is a command pilot with more than 7,500 flying hours including the C-17, C-5A, C-12J, C-26B, C-130D, C-130H, LC-130, KC-135A, T-37 and T-38.
EDUCATION:

| | |
| --- | --- |
| 1974 | Bachelor of Science degree in International Affairs, U.S. Air Force Academy, Colorado Springs, Colo. |
| 1978 | Squadron Officer School by correspondence |
| 1980 | MBA, Rensselaer Polytechnic Institute, Troy, N.Y. |
| 1983 | Juris Doctorate, cum laude, Albany Law School, Albany, N.Y. |
| 1993 | Air Command and Staff College by correspondence |
| 1995 | Air War College, Maxwell Air Force Base, Ala. |
ASSIGNMENTS:

| | |
| --- | --- |
| Jul 1974 - Jul 1975 | Undergraduate pilot training at Craig Air Force Base, Selma, Ala. |
| Sep 1975 - Dec 1975 | KC-135A Combat Crew Training, Castle Air Force Base, Calif. |
| Jan 1976 - Oct 1977 | KC-135A Pilot, 41st Air Refueling Heavy Squadron, Griffiss Air Force Base, N.Y. |
| Oct 1977 - Oct 1978 | Chief, Material Management Branch, 416 Supply Squadron, Griffiss Air Force Base, N.Y. |
| Oct 1978 - Aug 1980 | KC-135A Pilot, 41st Air Refueling Heavy Squadron, Griffiss Air Force Base, N.Y. |
| Sep 1980 - Mar 1981 | Non Obligated Reserve Section Air Reserve Personnel Center, Denver, Colo. |
| Mar 1981 - Jun 1984 | C-130D Pilot, 139 Tactical Airlift Squadron, Stratton Air National Guard Base, Scotia, N.Y. |
| Jun 1984 - Nov 1986 | Aircraft Commander, C-130D, C-130H, LC-130, 139 Tactical Airlift Squadron, Stratton Air National Guard Base, Scotia, N.Y. |
| Nov 1986 - Nov 1989 | Assistant Aircraft Maintenance Officer & Instructor Pilot: C-130H, LC-130H, C-12J, 109 Consolidated Aircraft Maintenance Squadron, Stratton Air National Guard Base, Scotia, N.Y. |
| Nov 1989 - Jul 1994 | Air Operations Officer, 139 Squadron Operations Officer, instructor pilot and flight examiner C-130H, LC-130H, C-12J, 139 Tactical Airlift Squadron, Stratton Air National Guard Base, Scotia, N.Y. |
| Jul 1994 - Jun 1995 | Student, Air War College, Maxwell Air Force Base, Ala. |
| Jul 1995 - Dec 1998 | 109th Operations Group Commander, Stratton Air National Guard Base, Scotia, N.Y. |
| Dec 1998 - Feb 2000 | 109th Logistics Group Commander, Stratton Air National Guard Base, Scotia, N.Y. |
| Feb 2000 - Apr 2006 | 109th Airlift Wing Vice Commander, Stratton Air National Guard Base, Scotia, N.Y. |
| May 2006 - Sep 2006 | C-5A Aircraft Commander Initial Qualification and Air Refueling Initial Qualification courses, Altus Air Force Base, Okla. |
| Sep 2006 - Mar 2007 | Assistant to Wing Commander, 105AW, Stewart Air National Guard Base, Newburgh, N.Y. |
| Mar 2007 - Apr 2012 | 105th Airlift Wing Commander, Stewart Air National Guard Base, Newburgh, N.Y. |
| Apr 2012- Pres | Commander New York Air National Guard |
FLIGHT INFORMATION:

| | |
| --- | --- |
| Rating: | Command pilot |
| Flight Hours: | More than 7,500 hours |
| Aircraft Flown: | T-37, T-38, KC-135A, C-130D/H/LC (models are combined) C-12J, C-26B, C-5A and C-17 |
| Pilot Wings From: | Craig AFB Selma, Ala. |
MAJOR AWARDS AND DECORATIONS:
Legion of Merit
Meritorious Service Medal with one oak leaf cluster
Air Medal with one oak leaf cluster
Air Force Commendation Medal
Air Force Commendation Achievement Medal
Air Force Outstanding Unit Award with five oak leaf clusters
Combat Readiness Medal with seven oak leaf clusters
Air Force Recognition Ribbon
National Defense Service Medal with two star devices
Antarctica Service Medal
Global War on Terrorism Service Medal
Air Force Longevity Service with six oak leaf clusters
Armed Forces Reserve Medal with one 'M' Device
Small Arms Expert Marksmanship Ribbon (Pistol)
Air Force Training Ribbon
EFFECTIVE DATES OF PROMOTION:

| | |
| --- | --- |
| 05 Jun 1974 | Second Lieutenant |
| 05 Jun 1976 | First Lieutenant |
| 05 Jun 1978 | Captain |
| 26 Aug 1987 | Major |
| 13 Dec 1993 | Lieutenant Colonel |
| 30 Mar 2000 | Colonel |
| 01 May 2007 | Brigadier General |
| 06 June 2012 | Major General |