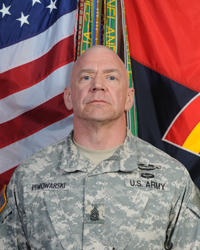 Command Sergeant Major David A. Piwowarski was born in Buffalo, New York and entered the Army 29 September 1981. He graduated from Basic Training, Infantry Advanced Individual Training and Airborne School at Fort Benning, Georgia.
Command Sergeant Major Piwowarski's has served in the following duty positions and organizations: Rifleman, Grenadier, Machine-gunner and Team Leader in the 1st Battalion 504th Airborne Infantry Regiment, 82nd Airborne Division, FT Bragg, NC; Rifle Team Leader, Rifle Squad Leader and Rifle Platoon Sergeant in 1-174th Infantry Battalion, NYARNG; Rifle Platoon Sergeant and Rifle Company First Sergeant in 2-108th Infantry Battalion, 27th Infantry Brigade, NYARNG; Rifle Company First Sergeant and Command Sergeant Major of 1-108th Infantry Battalion, 27th Brigade, NYARNG; Command Sergeant Major of 2-101st Cavalry Squadron, 27th Brigade, NYARNG; Command Sergeant Major 27th Infantry Brigade Combat Team; Operations Sergeant Major, Joint Force Headquarters, NYARNG; Command Sergeant Major of the 42nd Infantry Division.
In 2003 Command Sergeant Major Piwowarski was activated and served for 2 years as Battalion Task Force CSM, Region East, Operation Noble Eagle. In January of 2008 CSM Piwowarski mobilized and deployed as the 27th IBCT Command Sergeant Major and served as the CSM of Combined Joint Task Force Phoenix, Operation Enduring Freedom, Afghanistan.
His military education includes all four Noncommissioned Officers Development Courses culminating in his graduation from the Sergeants Major Academy in 2004. Command Sergeant Major Piwowarski has earned a dual Bachelor's Degree in Economics and Business from Buffalo State College in NY.
Command Sergeant Major Piwowarski's awards and decorations include: Bronze Star Medal, Meritorious Service Medal (with 3 oak leaf clusters), Army Commendation Medal (with 1 oak leaf cluster), Army Achievement Medal (with 4 oak leaf clusters), Good Conduct Medal, Army Reserve Components Achievement Medal (7th award), National Defense Service Medal (2nd Award), Afghanistan Campaign Medal (with star), Global War on Terror Service Medal, Armed Forces Reserve Medal ("M" device, silver hourglass), the NCO Professional Development Ribbon (with numeral 4), Army Service Ribbon, Overseas Service Ribbon, NATO Medal, the Combat Infantry Badge, Expert Infantry badge and parachutist wings.
CSM Piwowarski is a federal Technician serving as the Directorate Sergeant Major in J3 DO Joint Force Headquarters NYNG. He is married to the former Domenica Pisano from Buffalo, NY. They have two children, Alexa and Bryan and reside in Milton, NY.