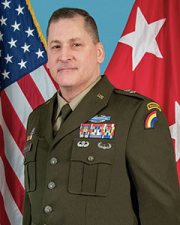 Brigadier General Joseph Biehler is the deputy commander for operations for the 42nd Infantry Division.
Biehler was commissioned as an infantry officer in May 1987 and has held positions as a rifle platoon leader, mortar platoon leader, support platoon leader, company commander, battalion supply, operations and executive officer, division liaison officer, and battalion commander before leading the 27th Brigade.
Prior to his command of the 27th Infantry Brigade Combat Team, he was commander of the 2nd Battalion, 108th Infantry. He was the battalion's operations officer during its deployment to Iraq in 2004 and commanded the battalion during its deployment to Afghanistan in 2012 as Task Force Iron.
Biehler is a graduate of the Infantry Officer Basic Course, Infantry Officer Advanced Course, Combined Arms Staff Service School, Intermediate Level Education, Infantry Pre-Command Course, Army War College, Airborne School, Air Assault School, and Ranger School.
Biehler was born in Rochester, New York and graduated from McQuaid Jesuit High School in 1983. He has earned Bachelor's of Science degrees in both Accounting and Management from St. John Fisher College in 1987.
Biehler's awards include the Bronze Star Medal, Meritorious Service Medal, Army Commendation Medal National Defense Service Medal, Army Achievement Medal, and Global War on Terrorism, Basic Parachutist Badge, Air Assault Badge, Ranger Tab, and the Combat Infantryman Badge.
He and his wife Sonya live in Webster, N.Y. with their twin sons Thomas and Andrew.
Biehler is Finance Senior Manager for Rochester's Harris Corporation.
Current as of 20 June, 2015