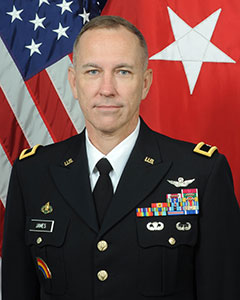 Brigadier General Jack A. James is the deputy commander for operations for the 42nd Infantry Division. BG James previously served as the Commanding General, 53rd Troop Command, Assistant Adjutant General, JFHQ-NY and Brigade Commander, 42d Combat Aviation Brigade
Brigadier General James's military career began upon his graduation from West Point in 1992. He attended the Aviation Officer Basic Course and flight school at Fort Rucker, Alabama, where he qualified in the AH-1 Cobra attack helicopter. During his active duty service, Brigadier General James served in key leadership and operational assignments including: Executive Officer, Company C, 2nd Aviation Regiment, 2nd Infantry Division, Camp Stanley, Korea; Attack Helicopter Platoon Leader, and Battalion S4, 1st Battalion, (Attack), 25th Aviation Regiment, 25th Infantry Division, Wheeler AAF, Hawaii; and Attack Helicopter Troop Commander, R Troop, 4th Squadron, 3rd Armored Cavalry Regiment, Ft. Carson, Colorado. Brigadier General James deployed to Haiti for Operation Uphold Democracy in 1995 and to Bosnia-Herzegovina as Commander of R Troop "Renegades" 4/3 ACR, in support of Operation Joint Forge/SFOR-7 in 2000.
In 2002, Brigadier General James joined the New York Army National Guard, again serving in several assignments including: Battalion S2/3, 642nd Aviation Support Battalion; Executive Officer, 3rd Battalion (Assault), 142nd Aviation Regiment; and Brigade S3, 42d Combat Aviation Brigade. Brigadier General James served as Operations Officer for New York's aviation response to Hurricane Katrina in September 2005, coordinating an aviation task force that grew to 28 aircraft and 500 Soldiers from four states, providing hurricane relief the Gulf Coast region.
In 2011 Brigadier General James assumed command of the 642d Aviation Support Battalion, Rochester, New York. He led his battalion onto State Active Duty in response to Hurricane Sandy in November 2012, and in 2013 mobilized and deployed to Kuwait in support of Operation Enduring Freedom. The battalion provided aviation maintenance and sustainment to the 42d CAB through August 2014.
Brigadier General James is a 1992 graduate of West Point and holds a Master of Business Administration degree from New York University. He is a Distinguished Graduate of the Army War College, Class of 2015, and a graduate of several other military schools, including the Air War College, Command & General Staff College, Aviation Officer Advanced Course, Combined Arms & Services Staff School, and the Electronic Warfare/Aircraft Survivability Course. He is a Pilot-in-Command in the UH-60 Blackhawk and is rated in the AH-64 Apache, AH-1 Cobra, and UH-1 Huey helicopters, and several fixed wing aircraft.
Brigadier General James' awards include the Legion of Merit, Meritorious Service Medal with four Oak Leaf Clusters (OLC), Army Commendation Medal with four OLCs, Army Achievement Medal with OLC, two Armed Forces Expeditionary Service Medals, Global War on Terrorism Expeditionary Medal, Global War on Terrorism Service Medal, Korea Defense Service Medal, two Humanitarian Service Medals, three Overseas Service Ribbons, and the NATO Medal. He also holds the Master Army Aviator Badge, Parachutist Badge, Air Assault Badge, and several state awards.
Brigadier General James is married to the former Lesia Koropey and has three children: Katherine, Juliana, and Nicholas.
Current as of 3 NOV, 2021