UNITED STATES MILITARY ACADEMY
West Point, NY
---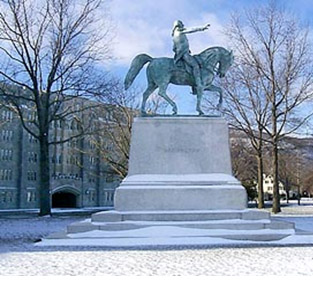 Consider the following:
West Point offers one of the most highly respected, quality education programs in the nation. A West Point cadetship includes a fully funded four-year college education. Tuition, room, board, medical and dental care are provided by the U.S. Army.
Each year about 200 Active Duty, Reserve and National Guard soldiers are offered admission to the U.S. Military Academy or the Preparatory School at Fort Monmouth, New Jersey. Although some soldiers are offered direct admission to West Point, most attend the Prep School first with the majority of the applicants to U.S. Military Academy. All applications are made directly to West Point. Soldiers not directly admitted to West Point will be automatically considered for admission to the Prep School.
The choice to enter West Point is a choice to join a distinguished, time-honored profession that is rich in tradition. Becoming a cadet is only the first step in a demanding, exciting and rewarding career that can be yours as an officer in the United States Army. An officer must meet the subtle challenges of leading and motivating soldiers to do their best.
"Is USMA for you?" You are the only one who can answer that question! However, when considering your college options, take a good look at what West Point has to offer. Leadership development, a top-notch education, and a professionally rewarding career are all part of the West Point experience. The Academy provides you with an excellent background for career success and future advancement.
Being a member of the New York Army National Guard will help you build a stronger leadership foundation and increase your chances for candidatcy at United States Military Academy, West Point, New York. Contact an Officer Strength Manager for an Alumni officer that is in the GUARD to give you his personal insight on West Point.
STEPS TO WEST POINT:
Basic Requirements


Be 17 but not yet 23 years of age by July 1 of year admitted
Be unmarried
Not be pregnant or have a legal obligation to support a child or children
An above-average high school or college academic record
Pass a Chapter II, Commissioning Medical Exam
SAT scores greater than 1000 or ACT score of 20 or higher

Apply for a nomination

Endorsement from their company Cdr
Congressional nomination
Sons and Daughters of Deceased or Disabled Armed Forces Veterans
Sons and Daughters of Persons Awarded the Medal of Honor
Army Junior and Senior ROTC programs and Honor ROTC units of other services

Start a File

Complete a Candidate Questionnaire

Candidate Kit

Notification
Candidates who pass the initial screening will receive a Candidate Kit

Follow-up nomination

It's important that you aggressively pursue every nomination available to you

Complete Testing

SAT/ACT test score
Medical Exam
CFA Physical Assessment (Six events)

Await Status

Notification in early June

Visit West Point

Two weeks notice is required to schedule an orientation

Prepare for USMA
---