The New York Army National Guard Judge Advocate General's (JAG) Corps
---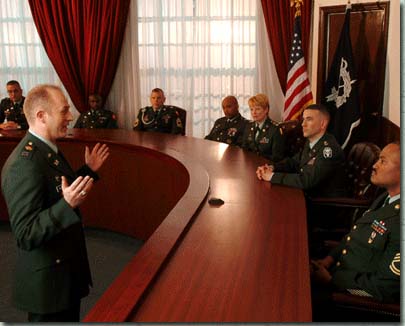 Consider the following:
JOIN THE NATION'S OLDEST LAW FIRM. You'll cover a wide-range of practices that ranges from military justice to international law - both in the U.S. and abroad. And you won't be clerking for years before you step into court; expect to be first seat at hearings within weeks after being commissioned.

Support Soldiers and their families by preparing wills and other estate documents.
Represent the Army or defend Soldiers in disciplinary hearings.
Advise commanders and law enforcement agents on criminal matters.
Obtain free continuing legal education credits by attending classes at The Judge Advocate General's Legal Center and School in Charlottesville, Virginia.
Meet and work with lawyers and judges from all over the state and country.
Learn international and operational law as we help developing nations.

DIRECT COMMISSIONING AS A FIRST LIEUTENANT. You are eligible to become an officer in the Army National Guard and can become a captain within months after completing your officer basic course.
EARN EXCELLENT PAY FOR PART-TIME WORK. This includes pay for attending one weekend of training per month and two weeks of annual training - a total of 39 days per year.
RETIREMENT. You will be enrolled in a retirement plan that, providing you serve 20 years, will give you a pension beginning at age 60.
SERVICE. Most importantly, you can take pride in the fact that you are serving your country and community by providing legal services and counsel to those who defend our nation.
---
Candice Freyburger, MAJ
Specialty Branch OSM - Branch Chief
candice.m.freyburger.mil@army.mil
(718) 810-6683
---