New York State Battleflag Conditions
What do we know about the condition of New York's Battle Flags?
Most of the Civil War flags are in fair-to-poor condition
All of New York's battle flags are being damaged by the current method of display in the cases on the first floor of the Capitol
The flags are crowded into cases in an uncontrolled environment
Gravity is causing stresses on the rolled, vertical flags
The flags became soiled from a century of exposure to dirt in the Capitol and the surrounding urban environment
The flags, now wrapped in acid-free tissue for protection, were exposed to excessive amounts of light for over 100 years, which caused degradation of the fibers
Click on the images below to enlarge them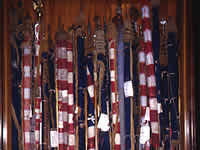 Two views of a crowded display case in the New State Capitol: 1997 on the left and 2000 on the right. During the fall of 2000, conservators wrapped the flags in acid-free tissue to protect them from light and dirt.
This 1998 photograph shows flag fragments and soils accumulating in the bottom of this case, illustrating the ongoing deterioration of the flags.
©
NYS DMNA
:
Military History Museum
: New York State Battleflag Conditions
Page Last Modified: Thursday, 23-Jun-2016 11:53:46 EDT