New York State Battle Flag Conservation Initiatives
Many of New York's battle flags have survived for over 140 years. A great number of the flags in the New York State Battle Flag Collection have been in fair-to-poor condition for some time. The flags will continue to deteriorate until they receive care and improved storage conditions.
Funding from the Governor's office and the New York State Legislature permitted preservation of the flags to begin in 2000. Since then, conservators from New York State Parks, with the assistance of a curator from the New York State Military Museum, have:
Inventoried all of the flags to learn their type and dimensions
Advised on specifications for the archive that will house the preserved flags
Wrapped most of the flags in the Capitol in acid-free tissue to protect them from further light and dust damage
Worked with specialist vendors to design archival flag support panels and storage racks
Prepared over 500 flags for the archive
Prepared over 150 flags for exhibition
In October 2002, a new home for the Division of Military and Naval Affairs' collection - the New York State Military Museum & Veterans Research Center in Saratoga Springs, New York. Additional rehabilitation of the historic state armory is proposed to establish an archive of preserved flags from the New York State Battle Flag Collection. Please join us in supporting this initiative.
Click on the images below to enlarge them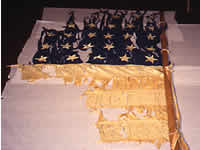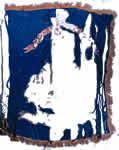 Unless we improve the environment of New York State's battle flags, more and more flags will become fragments, like the ones shown here.
©
NYS DMNA
:
Military History Museum
: New York State Battle Flag Conservation Initiatives
Page Last Modified: Thursday, 23-Jun-2016 11:56:00 EDT