New York Battle Flag Conservation Process
What are we doing to save New York State's Battle Flags?
Documenting the history and current condition of each flag
Removing the flags from their staffs, cleaning them, and realigning them
Creating a support made of archival-quality materials for each flag
Establishing a secure space with a stable, clean environment as interim storage for flags that have been treated
Click on the images below to enlarge them.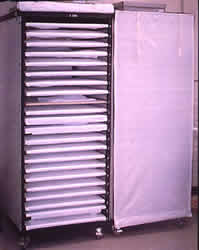 Creation of a flag archive will permit historians, descendants of soldiers, or anyone interested in the flags, to have information and images of the flags in much the same way that papers and books in a research library are available, but safely preserved.
Under the Microscope in the Conservation Lab:
Consideration of previous repairs
Consideration of previous treatments
Some examples of current conservation treatments
©
NYS DMNA
:
Military History Museum
: New York State Battle Flag Conservation Process
Page Last Modified: Thursday, 23-Jun-2016 12:41:44 EDT