New York Battle Flag Conservation Process - Consideration of Previous Repairs
Under the Microscope in the Conservation Lab:
Consideration of previous repairs
As part of the documentation, previous repairs are photographed and their placement noted.
Previous repairs can include stitch repairs and/or pins used to hold the flag together.
Stitch Repairs:
Most previous repairs appear to have been done during the use of the flag in an effort to repair the flag so it could continue to be used. These repairs are usually not well done and use coarse threads that further damage the flag. For the most part, these repairs are removed by the conservator, saving the threads for further study. The flag can then be realigned.

The stitching here created a tuck, which prevented the realigning of the flag (2002.0127)

.

Some previous repairs do not inhibit the realignment of the flag or are now an integral part of the flag, so they are not removed.

The upper hoist corner of the canton was repaired during the use of the flag with an additional fabric, perhaps a dress fabric of the seamstress (2002.0127)
Pins:
Usually pins that are found on the flags are removed so that they will not cause further damage by rusting.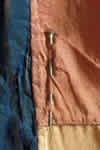 A pin found in the upper center of the flag (2002.0127)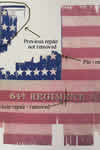 After treatment – the flag is now on display at the Albany State Capitol Building until October 2004 (2002.0127)
©
NYS DMNA
:
Military History Museum
: New York State Battle Flag Conservation Process - Consideration of Previous Repairs
Page Last Modified: Thursday, 23-Jun-2016 12:42:51 EDT