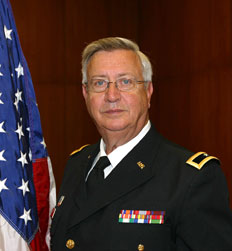 New York Guard Commander
Stephen A. Bucaria
Brigadier General, New York Guard
Stephen A. Bucaria has participated with the New York Guard in support of Legal Affairs missions since 1996 and was commissioned as a Major in August 1997. He served as a JAG with Detachment A of the Civil and Military Affairs Unit, and was promoted to LTC in January 1999.
When New York Guard Civil Affairs Units were reorganized in 2001, LTC Bucaria became acting commander of the 13th Regiment, a new unit consisting of JAG and Civil Support Officers in Nassau and Suffolk Counties. Following the World trade Center disaster, LTC Bucaria and the 13th Regiment were deployed to provide security and communications assistance to armories in New York City and in logistics support for the SEMO warehouse on Long Island.
LTC Bucaria was promoted to Colonel in February 2002 and named Commander of the 13th Regiment. During this period, the 13th Regiment provided legal assistance to National Guard, Army Reserve and Marine Units, who were gearing up to be deployed for Homeland Security and overseas missions.
In July 2002, COL Bucaria was selected to serve as Acting Commander of the 54th Civil Affairs Brigade and was responsible for organizing the first consolidated Annual Training for the Brigade, incorporating MOS and military training.
COL Bucaria was assigned as Deputy Commander for Support for Army Division, New York Guard in October 2002. While serving in that capacity, he assisted the Commander in producing the current Meritocracy program, which guides the careers of New York Guard members. He was promoted to Brigadier General on 17 November 2003.
In March 2005, BG Bucaria was selected to serve as Commander, Army Division and reorganized New York Guard MOS and Professional Development Schools into the 12th Regimental Training Institute. On 17 June 2006 the NYG was reorganized to one Headquarters. BG Bucaria was reassigned in the new consolidated Headquarters as Deputy Commander of the New York Guard.
Military Awards, Decorations and Certificates:
NYS Meritorious Service Medal
NYS Long and Faithful Service
NYS Defense of Liberty Medal
NYS Recruiting Medal
NYG Meritorious Service Medal
NYG Commendation Medal
New York Guard Service Ribbon
Unit Certificate of Commendation, USMC Parris Island for Legal Assistance 02/02/96
Letter of Appreciation, CO C, 1BN. 69th INF, pre-mobilization assistance 12/05/97
Commendation Certificate, CMA Det, for Legal Support and Family Assistance to 1569 Transportation CO, 360 REGT, 206 BN 04/17/99
Letter of Commendation, 53D Troop Command, for Legal Assistance 06/11/99
Certificate of Commendation, 2nd Bn, 25th USMCR, for Legal Assistance 01/19/02
Letter of Recognition for Services Rendered, AT 2002 10/30/02
Civilian Experience:
Following graduation from Fairfield University, General Bucaria joined the staff of New York State Senator, John R. Dunne, who was then the Chairman of the Senate Committee on Crime and Corrections. While on the Senator's staff, he assisted in the research and data preparation of the precedent setting, Tombs Report. Concurrently, he received his Master of Arts Degree (MA) from SUNY Albany.
In 1972, General Bucaria was appointed as a visiting Professor of Sociology, University of Alberta, Edmonton, Canada, teaching undergraduate and graduate level courses.
Upon the completion of his teaching assignment in Edmonton, General Bucaria rejoined the staff of Senator John R. Dunne as a Legislative Assistant. In 1976, he graduated from the Hofstra University School of Law, was admitted to the New York State Bar for the practice of Law and accepted a position as an Assistant District Attorney for Nassau County.
In 1979, General Bucaria entered private practice until accepting a position as Law Secretary for Hon. Gabriel Kohn, New York State Court of Claims in 1989, later serving as Law Secretary to Hon. Angelo D. Roncallo, Justice of the Supreme Court, from 1990-1993. General Bucaria was elected to the District Court in 1993 and served there until his election, in 1995, to the Supreme Court of the State of New York where he currently serves.
BG Bucaria is the recipient of the following civilian awards:
He is active in the following:
Irish in Government
Friendly Sons of St. Patrick
Colombian Lawyers Association
Catholic Lawyers Guild
Fourth Degree - Knights of Columbus
Eucharistic Minister, St. Joseph's Parish, Garden City, NY.
State Guard Association of the United States (SGAUS)
New York Guard Association
CERT (Nassau County Community Emergency Response Team)
General Bucaria resides on Long Island, NY with his wife Elizabeth.
---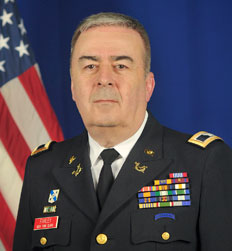 Deputy Commander
Brian P. Farley
Colonel, New York Guard
COL Farley was appointed CPT in the NYG on 26 March 1986 assigned to the Community Development Section, P/T Detachment Whitestone, NY and then attached to Command HQ NYG as an assistant G-4. In April 1989 he was assigned to the G-3, Command HQ NYG as an assistant G-3. On 20 May 1989 he was promoted to MAJ and on 4 August 1989 was attached as a Special Assistant to the Chief of Staff Command HQ, NYG. In November 1990 he was transferred to the then 2nd Brigade NYG (since redesignated 10th Brigade) as staff JAG. He was promoted to LTC on 1 March 1992 and was named 10th Brigade S-3 in September 1999.
He was called to active duty on 11 September 2001 and served in OP Trade Center TF Rotterdam as S-3 until 1 October 2001 when he was reassigned as Acting Commander, 10th Brigade (TF Rotterdam). He served in that capacity until relieved from State Active Duty on 18 October 2001.
He was named Deputy Commander, 10th Brigade on 21 June 2002 and Commander on 21 February 2003. In June 2003 he was TF Commander of all NYG Troops participating in OP Phoenix Warrior at Ft. Drum, NY, and on 19 August 2003 was promoted to COL, effective 21 June 2003. In June 2004 he was Commander of TF-10 (EN) during OP Patriot East, Ft. Drum NY. TF-10 was comprised of NYG troops, USNR Sea Bees and worked with and for the 2-110 FA, MDARNG, USAF, Ft. Drum Range Control and foreign troops from several countries. He was named Deputy Chief of Staff NYG on 15 September 2012 and served in the Joint Operations Center as the NYG representative during the aftermath of Super Storm Sandy. He was named Deputy Commander, NYG on 23 July, 2014.
Assignments:

| | |
| --- | --- |
| Mar 1986 | Assistant G-4 Command HQ, NYG |
| Apr 1989 | Assistant G-3 Command HQ, NYG |
| Aug 1989 | Special Assistant to Chief of Staff, NYG |
| Nov 1990 | JAG 2nd /10th Brigade |
| Sep 1999 | S-3 10th Brigade |
| Oct 2002 | Deputy Commander 10th Brigade |
| Feb 2003 | Commander 10th Brigade |
| Sep 2012 | Deputy Chief of Staff HQ, NYG |
| Jul 2014 | Deputy Commander, NYG |
Promotions:

| | |
| --- | --- |
| CPT | 26 Mar, 1986 |
| MAJ | 20 May, 1989 |
| LTC | 1 Mar, 1992 |
| COL | 21 Jun, 2003 |
Awards and Decorations:
NYS Medal for Meritorious Service
NYS Commendation Medal (3rd Award)
NYS Long and Faithful Service Medal (25 Years)
NYS Defense of Liberty Medal
NYS Recruiting Medal
NYS Aid to Civil Authority Medal
NYS Humane Service Medal
NYG Commendation Medal
NYG Achievement Medal
NYG Commander's Citation (2nd Award)
NYG Operation Support Medal (3rd Award)
NYG Service Medal Class I (3rd Award)
NYG Service Ribbon
NYG Distinguished Graduate Ribbon
1st Provisional Regiment Medal
NYG SAR Tab
Letter of Appreciation Commander Watervliet Arsenal 4 Jun, 2001
Letter of Appreciation Co D 1st Bn 105th Infantry NYARNG 18 Aug, 2001
Letter of Commendation Co F 2nd Bn 25th Marines 7 May, 2002
Certificate of Appreciation OP Patriot East NYANG 26 Jun, 2004
Letter of Appreciation 2nd Bn 25th Marines 28 Nov, 2005
Certificate of Appreciation 106th RTI NYARNG 2007
Certificate of Appreciation US Navy Operational Support Center 5 May, 2010
Civilian Education:

| | |
| --- | --- |
| 1972 | BA St. Bonaventure University |
| 1979 | JD Western New England College School of Law |
Civilian Experience:
Practicing Attorney since 1980, Albany County Assistant District Attorney 1985-2008,
Colonel Farley is married with a son and daughter.
Current as of 05 Nov, 2014
©
NYS DMNA
: New York Guard Leadership
URL: http://dmna.ny.gov/nyg/?id=leadership
Page Last Modified: 05 Nov 14 (ba)