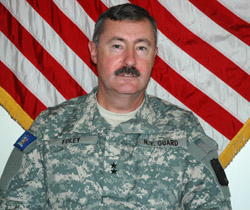 Like many organizations that have evolved over the years, the New York Guard has too. Five years ago, we underwent an organizational transformation that changed the way we do business. It was a re-organization that the New York Guard embraced and succeeded. Our mission was to augment the DMNA Joint Task Forces (JTFs) when activated for a domestic crisis. Why did we have to make such a change? In the military, we exist to accomplish certain mission sets as directed. If a unit cannot provide such services (missions) then there is no reason to be in service.
We have seen military units transform over the years to better prepare to fight on the modern battlefield. For example, imagine if the signal corps of the late 1800's still relied on semaphores and telegraphs. The Signal soldiers today operate satellites, hi speed computers, and video links. They adapted to the environment and the complex mission sets. Unfortunately, I witnessed outstanding units with an accomplished history being deactivated because there was no a longer a need for those services. Some units were lucky where they had enough of an infrastructure to be able to modify (retrain) their personnel and equipment to adapt to new mission sets.
On a more global perspective, the National Guard was always considered a strategic reserve. Since 9/11, the National Guard has become an operational force in the OEF/OIF campaign. The National Guard proved its ability to adapt and became a much more relevant force.
Five years later, the New York Guard is at another point where a transformation is needed... and this is a good thing! Over the last couple of activations we were tasked with regular missions and some rather unique missions that we never did before.
It is very clear that when a crisis occurs we will be tasked with these new missions. At this point, I must add that YOU answered the call during these past activations and successfully took on these new mission sets with minimum instruction. The Division of Military and Naval Affairs recognizes your accomplishments and has come to us with additional relevant tasks.
The operative word here is relevant. What can we do to remain relevant to provide services that are actually needed? This is why we must adjust our structure to accommodate these relevant missions. By the way, in addition to our current mission sets some of these new missions include logistics management, power restoration, and urban search & rescue, to name a few.
There are many factors to consider in developing the right type of organizational structure. Items such as troop strength, availability of armories, training programs, budget, etc, will all factor into the right force structure. The bottom line is that we will have a force structure solution that works. Our existence will be based on our relevance and the valuable service we provide to the Division of Military and Naval Affairs and the Citizens of New York.
I look forward to this exciting time as we move forward to another new chapter in the New York Guard.
Major General Ferg Foley
Commanding