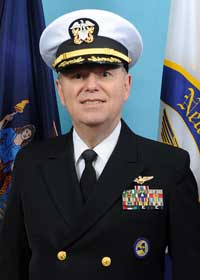 Captain David H. Hawley is a resident of Troy, New York and graduated with a Master's in Biology from the University of Bridgeport in 1982. He was commissioned as an Ensign in the United States Navy in Pensacola, Florida, in 1982 where he attended Flight School. After flight training in both fixed wing and rotary wing aircraft he received his Wings of Gold as an "Unrestricted" Aviator.
Captain Hawley was assigned to HC-3 in North Island California for CH-46 "Sea Knight" training and then transferred to Helicopter Combat Support Squadron 6 (HC-6) in Norfolk ,Virginia. During his three year tour he deployed to the Mediterranean aboard the USS Concord and the USS Savannah along with short deployments to the Caribbean and along the Eastern Coast.
Following another training tour in Pensacola, Captain Hawley transferred to Navy Recruiting District Nashville, Tennessee, where he served as the Officer Programs Officer Department Head. In May 1990 He transferred to the USS Peleliu (LHA 5) as a "Huey" (UH-1N) Pilot, Search and Rescue Pilot, NATOPS Officer and Helicopter Direction Center Officer. During his tour on the USS Peleliu (LHA-5), he was deployed to Desert Storm and the Mt Pinatubo evacuation.
Captain Hawley left active duty in 1994 and joined the US Naval Reserves. He subsequently served with VTU 201, NR DESRON 22, and NR USJFCOM.
Assignments included:
Administration Officer
Training Officer
Command Duty Officer
Operations Officer
Crisis Action Team Chief
He retired from the Naval Reserves in November 2010 and re affiliated with the New York Naval Militia as the Administration Officer (N1). As N1 he organized the Personnel Action Team (PAT) for Hurricane's Irene and Sandy, recalling members for the support of New York's citizens. Captain Hawley was promoted to Captain New York Naval Militia on July 3rd, 2014 and assigned duties of Chief of Staff.
Captain Hawley and his wife, Helene Hawley, have a Daughter, Sara married to Chris Hopkins in Binghamton, New York. In his civilian life he has was the Executive Director of Cornell Cooperative Extension in Rensselaer County, NY, until 2014 when he was hired full time to serve the New York Naval Militia as Executive Officer.
Captain David H. Hawley was born in Oswego, NY and graduated from Oswego High School. He is the son of Ward and Ida Hawley. The Hawley family lived at 107 West Van Buren St. between 1957 and 2011.