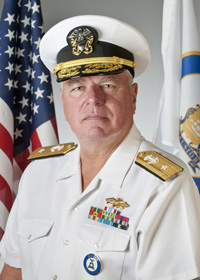 Rear Admiral David Tucker was raised in Greece, NY. At the age of 17 as a High School Senior he enlisted in the 10th Fleet Division of the Navy Reserve. He went to Boot Camp in August 1967 and served two years of active duty on USS Boxer (LPH 4) as a Machinist Mate assigned to B Division. After leaving the Reserves in 1972, he attended Alfred State College, Syracuse University School of Architecture and graduated in 1975 with a Bachelor of Architecture Degree.
In 1982, Rear Admiral Tucker rejoined the Navy Reserve and was direct commissioned as an Ensign into the Navy Civil Engineer Corps. He served in Naval Mobile Construction Battalion (NMCB) 13, holding billets as Assistant Admin Officer, H Company Commander, and Assistant Training Officer until 1984, when he became Echo Company Commander, serving Upstate New York.
In 1987, as Commanding Officer of the battalion's 90-man air detachment his was the first to ever pass the rigorous two week Military portion of the two week exercise active or reserve on the East Coast.
He then went on to serve as Embark Officer of the 21st Regiment in Rhode Island and as Training Officer, and then Operations Officer of NMCB 12. He was promoted to LCDR in 1990.
In 1994, he was called to active duty and was seconded to the United Nations in Bosnia, where he served as Engineering Coordinator for the Government of Bosnia-Herzegovina and in the Krajina Region of Croatia during that conflict. His responsibilities included providing basic infrastructure for 35 refugee camps. He was subsequently awarded the Joint Meritorious Service Medal.
Returning to the U.S. in 1995, Rear Admiral Tucker served as Executive Officer of NMCB 27 in Brunswick, Maine. In 1998, he was selected to serve as an Action Officer on the Logistics Staff of the Chief of Naval Operations in the Pentagon. In February 2001, he retired from the Naval Reserve.
Having affiliated with the New York Naval Militia in 1997, he became more active in 2001. In 2008, he was selected as Commander of the Western Command, the Naval Militia's largest Region. In that capacity Rear Admiral Tucker strenuously integrated the Naval Militia and Military Emergency Boat Service in to many joint exercises such as Vigilant Guard in 2009. He planned missions to assist the Coast Guard in establishing a safe zone in Lake Ontario for the 2009 ESL Air Show in Rochester. The most recent venture was the Northern Border Security Exercise May 2012 in Rochester, where the Naval Militia crews hosted the Rochester Police Department and Greece Police in patrolling Lake Ontario and the Genesee River. Naval Militia members integrated with local police departments, FBI, Border Patrol, ICE, RCMP, Coast Guard and many other agencies.
In civilian life, Rear Admiral Tucker is a registered architect and is sole proprietor of an architectural firm designing schools, homes and commercial properties. He has four children, three grandchildren, and resides with his wife, Helen, in Marcellus, NY.

NYNM March

Composed by:
CPT Douglas Hedwig, NYG

Download