Today there are more than 300,000 living Asian-American, Native Hawaiian, and Pacific Islander American veterans. 
          The "Asian/Pacific-American" designation encompasses more than 50 ethnic or language groups including native Hawaiians and other Pacific Islanders. There are now more Asian and Pacific Islander groups than in the past - with 28 Asian and 19 Pacific Islander subgroups representing a vast array of languages and cultures. These groups include Chinese-Americans, Filipino-Americans, Japanese-Americans, Korean-Americans, Vietnamese-Americans, Indian-Americans, Laotian-Americans, Cambodian-Americans, Hmong-Americans, Thai-Americans, Pakistani, Samoan, Guamanian and many other language groups.
"Native Hawaiian and other Pacific Islander" refers to people having ancestors originating from Hawaii, Guam, Samoa, or other Pacific Islands. It includes people, who indicated their race or races as "Native Hawaiian," "Guamanian or Chamorro," "Samoan," or "Other Pacific Islander," or wrote in entries such as Tahitian, Mariana Islander, or Chuukese. "Some other race" was included in the Census 2000 for respondents, who were unable to identify with the five Office of Management and Budget race categories. Many Asians and Pacific Islanders have ancestry in a number of different cultures.
In the first half of the 19th century, many people from Asia, particularly Chinese, immigrated to the United States, where opportunities for employment were abundant. This was clearly a condition consistent with a nation that was growing not only geographically but economically as well. By the start of the Civil War, thousands of Asians were living in the United States. Many served with distinction in the U.S. Army.
During the late 19th and early 20th centuries, many people from East Asia chose to immigrate to the United States, where opportunities for work and a better life beckoned. Despite numerous instances of discrimination, many Asian-Americans joined the U.S. Army and served with distinction during World War I on the battlefields of France. Following the war, Soldiers of Asian ancestry were recognized for their contributions to the war effort and were allowed to become naturalized citizens. By the end of World War I in 1918, there were nearly 180,000 Asian-Americans living in the United States, including about 100,000 Japanese and 60,000 Chinese and 5,000 Filipinos.
At the start of World War II in 1941, more than a quarter-million Asian-Americans were living in the United States. After the Japanese attack on Pearl Harbor, Hawaii, Japanese-Americans were perceived as a threat to national security based solely on their ethnic ancestry. Consequently, on March 18, 1942, President Franklin D. Roosevelt created the War Relocation Authority. Thousands of Japanese-Americans were moved involuntarily to internment camps created throughout the United States. Despite being subjected to prejudice and discrimination, a large number of Nisei (first generation Japanese-Americans born in the United States) volunteered for service in the U.S. Army. These Soldiers served with great honor in the European and North African campaigns. Their feats of courage, particularly in the Italian campaign, are legendary. Other Asian-American groups also answered the call to duty and served with great distinction in the European and Pacific theaters - many taking part in the liberation of their ancestral homelands.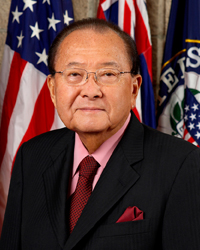 Sen. Daniel K. Inouye
2000: The first Japanese-American and only second recipient to receive both the Medal of Freedom and the Medal of Honor
  Sen. Daniel K. Inouye is also the first Japanese-American to serve in            Congress.
  Inouye was born in Honolulu, Hawaii, Sept. 7, 1924. He received his       undergraduate degree from the University of Hawaii, and his law degree from George Washington University.
On Dec. 7, 1941, the fateful day of the Japanese attack on Pearl Harbor, 17-year-old Dan Inouye was one of the first Americans to handle civilian casualties in the Pacific war. He had taken medical aid training and was pressed into service as head of a first-aid litter team. He saw a "lot of blood" and did not go home for a week.
During World War II, Inouye served in the U.S. Army's 442nd Regimental Combat Team. Composed of Soldiers of Japanese ancestry, the 442nd became one of the most decorated military units in U.S. history. For his combat heroism, which cost him his right arm, Inouye was awarded the Medal of Honor, the Distinguished Service Cross, the Bronze Star, and the Purple Heart with Cluster. He practiced law in Hawaii before entering territorial politics in 1954.
When Hawaii became the 50th state, Inouye became one of its first representatives in the U.S. Congress, then won election to the U.S. Senate in 1962. Sen. Inouye gained national distinction in the 1970s as a member of the Senate Watergate Committee and, in 1987, as chairman of the Senate Iran-Contra Committee. He was a long-time member of the Senate Appropriations Committee, which he chaired from 2009 to 2012, and also served as the Senate's president pro tempore from 2010 until his death in 2012. In 2013, Inouye was posthumously awarded the Presidential Medal of Freedom, becoming the first senator to receive both the Medal of Freedom and the Medal of Honor.