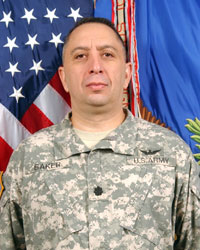 LTC Jeffrey Baker was born June 25th 1968 in Harrisville, NY where he graduated from Harrisville High school in 1986. LTC Baker began his military career in 1986 when he contracted as a cadet in ROTC at Embry Riddle Aeronautical University. He was commissioned in 1990 after graduation and joined the NYARNG and the 1-142 Attack Helicopter Battalion. Upon graduation and completion of the Ordnance Officer's Basic Course in 1992 LTC Baker was assigned as the 3-5 Platoon Leader for the Battalion. LTC Baker attended Flight School at Fort Rucker, Alabama and graduated in 1995 and later in the same year successfully completed the UH-60 aircraft transition. In 1999 LTC Baker graduated from the Albany College of Pharmacy.
LTC Baker served in the 3-142 Assault Helicopter Battalion over the next 10 years as a Platoon Leader, Company Commander, and BN Staff Officer. In 2002 LTC Baker was deployed to Bosnia in support of SFOR 12 where he served as the COMSFOR Flight Detachment Commander. LTC Baker spent time as a Staff Officer in the 42nd CAB and was transferred back to the 3-142 AHB for deployment to Iraq in 2008, serving as a Staff Officer and Pilot in Command, flying over 200 combat hours. Upon return, LTC Baker served as the Battalion XO and is now the Battalion Commander for the 3-142nd AHB. LTC Baker is rated in the UH-1, OH-58 and UH-60 aircraft and has flown over 1700 accident free flying while serving as a Pilot in Command for the NYARNG. Additional missions for 3-142 AHB that LTC Baker has supported are NATO Support to Iceland, Nicaragua, JRTC, 1998 Ice Storms, 2 Missions to Honduras, and Hurricane Relief Support for both Katrina and Irene.
LTC Baker's awards include the Bronze Star, Defense Meritorious Service Medal, Army Achievement Medal, Army Reserve Component Achievement Medal, 2 National Defense Service Medal, Armed Forces Expeditionary Medal, Humanitarian Service Medal, 2 Armed Forces Reserve Medals, NATO Medal, Army Service Ribbon, Overseas Service Ribbon, 2 Army Reserve Component Overseas Training Ribbons, Senior Army Aviator Badge, 2 Armed Forces Reserve Medals with M device, Global War on Terrorism Medal, Iraqi Campaign Medal, New York Long and Faithful Service Award, 2 New York Operation Iraqi Freedom Ribbons, and the New York Exercise Support Ribbon.
Currently LTC Baker is a pharmacist at Price Chopper and lives in Rotterdam, NY with his wife Lisa and their 2 children Noah and Gabrielle.