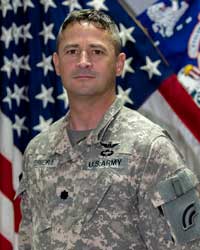 LTC Kevin J. Ferreira is a Native of Youngstown, New York and was commissioned into the Field Artillery in May 1994 as an ROTC Scholarship graduate from the University of Massachusetts, Amherst. Following his commission he was assigned to C Battery, 4-11 Field Artillery, Fort Richardson Alaska. He served as the Fire Support Officer for Comanche Company 1-501 Parachute Infantry Regiment, completing rotations at the Yakima Training Center, JRTC and NTC. He then completed assignments as the 1-501 PIR Battalion Targeting Officer and culminating as the Executive officer for C Battery 4-11 (ABN) FA. In October of 1997 He transitioned from Active Duty and commissioned into the Alaska Army National Guard as the Executive Officer for 1-207th Aviation Regiment, and entered into initial entry rotary wing training in December of 1997 at Fort Rucker Alabama followed by the UH-60 Aircraft Qualification Course with a branch transfer from Field Artillery to Aviation.
Upon completion of the UH 60 AQC he returned to Alaska as an AGR soldier and commanded the Army Aviation Operating Facility in Bethel Alaska while serving as the executive officer then HHC Commander for 1-207th Aviation Regiment. In March of 2001 LTC Ferreira interstate transferred from Alaska to the New York Army National Guard, transferring from AGR to a Federal Technician at AASF #3 as the Operations Officer, and serving as the Liaison Officer in the Aviation component of STARC, as the lead planner for a 4 month New Horizons mission to Nicaragua. In 2002 LTC Ferreira took command of A Company 3-142 Assault Helicopter Company for pre deployment training and a deployment in support of SFOR 12 to Bosnia Herzegovina. He relinquished command in 2005 and subsequently held positions as Battalion S4 and S3 for 3-142 Assault Helicopter Battalion. As the Battalion operations officer he deployed again in support of OIF 08-10 supporting operations in Baghdad and Al Kut Iraq. Upon completion of the deployment LTC Ferreira became the operations officer, S3 for the 42d Combat Aviation Brigade and then the Executive Officer for the 42d Combat Aviation Brigade where he deployed again in support of OEF-Kuwait. While deployed to Kuwait LTC Ferreira was directed to assume command of the 3-238th GSAB consisting of units from 6 different states, providing utility and fixed wing aircraft support and ATC support across the Middle East, leading a 150 person Task Force for a multinational training partnership in Saudi Arabia in addition to building multinational partnerships in Kuwait and Jordan. He continues to serve as a Federal Technician as the Aviation Support Facility Commander in Latham New York.
LTC Ferreira is a graduate of the Field Artillery and Aviation Officer Basic Course, Aviation Captains Career Course, Command and General Staff College, and Advanced Operations course. He holds a Bachelors of Science in Wildlife management. He holds the Army Parachute Badge, Master Aviator Wings and is a UH 60 Instructor Pilot. He has over 2,600 total flight hours and is qualified in the OH 58A/C, TH-67 and UH-60. His decorations include the bronze star, Meritorious Service Medal (3) ARCOM, AAM (2), NATO Medal, Overseas Service ribbon (3) and numerous other decorations.
He is married to his lovely wife Skeeter and they have a son Blake (22) and two daughters Shea (10) and Elcie (8).