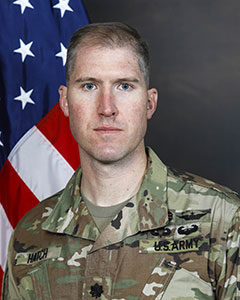 Lieutenant Colonel Shawn C. Hatch, a native of Manassas, VA, received his commission in 1999 as a graduate of the United States Air Force Academy, Colorado Springs, CO, where he earned a Bachelors of Science in Astronautical Engineering.
Upon completion of the Aviation Officer Basic Course, Initial Entry Rotary Wing Course, and the OH-58D Kiowa Warrior Aircraft Qualification Course, LTC Hatch was assigned to the 2nd Squadron, 17th United States Cavalry, 101st Airborne Division (Air Assault) at Ft Campbell, KY. He served as an Air Scout Platoon Leader, Squadron Liaison Officer, and Squadron S1 from May 2001 to September 2004. LTC Hatch deployed with the unit to Kuwait and then into Iraq in support of Operation Iraqi Freedom I from March 2003 to Nov 2003.
Following his attendance at the Armor Captains' Career Course at Ft Knox, KY, and the Joint Firepower Controllers Course at Nellis AFB, NV, LTC Hatch was assigned to 1-17 Cavalry Squadron, 82nd Aviation Brigade, 82nd Airborne Division from Jun 2005 to Jun 2008. He served as the Squadron assistant S3, the Headquarters and Headquarters Troop Commander, and the B Troop Commander, deploying to Iraq from July 2006 to July 2007.
In 2008, LTC Hatch was assigned to the Maneuver Center of Excellence, where he served as the Senior Aviation Instructor in the Directorate of Training.
In 2011, LTC Hatch left active duty and joined the New York Army National Guard where he was assigned as the 42nd Combat Aviation Brigade S2. He took command of B/642 in March 2012. The "BlackDiamond" company deployed to Kuwait in support of Operation Enduring Freedom from December 2013 to August 2014. After a brief assignment as the Executive officer of 3-142 AHB, he was assigned to the 42d ID Headquarters as the G3(Air) where he has served from 2015 until 2018. He currently commands the 642nd Aviation Support Battalion, "Blackheart."
LTC Hatch's awards and decorations include the National Defense Service Ribbon (1OLC), Global War on Terrorism Expeditionary Medal, Global War on Terrorism Service Medal, Army Achievement Medal, Army Commendation Medal (2OLC), Air Medal (7), Meritorious Service Medal (1 OLC), Bronze Star, Army Aviator Badge, Combat Action Badge, Parachutist Badge and the Air Assault Badge.
LTC Hatch is married to the former Marie Lou Roush of Steilacoom, WA. They have four children, Abigail (16), Caleb (14), Miriam (13), and Noah (11).
Current as of 22 NOV, 2019