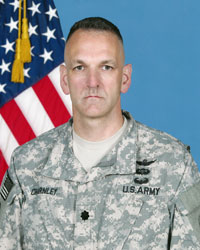 Lieutenant Colonel Michael Charnley entered the Army in 1991 and attended Warrant Officer Flight training graduation from flight school in 1992. He served as a Warrant Officer to C/5-501st Attack Battalion stationed at Camp Eagle, Korea and Alpha Troop, 2-17 Cavalry at Fort Campbell, KY before being selected to attending 1998.
Upon commissioning from Federal OCS, where he was a Distinguished Military Graduate, he served as the Executive Officer of HHC 1-10 Aviation (Attack) and as a Platoon Leader in Company B/1-10 Aviation (Attack). In 1999 he was deployed to Bosnia as part of the 10th MTN DIV Brigade Task Force in support of Operation Joint Forge.
In 2001, he transferred to the New York National Guard and was assigned as the Battalion Intelligence Officer of the 1-142 Aviation Battalion (Attack). LTC Charnley was then assigned to the 249th Medical Company (Air Ambulance) as a Platoon Leader, deploying in support on Operation Nobel Eagle and as part of an Aviation Task Force that supported relief efforts immediately following Hurricane Katrina. LTC Charnley was later selected as the 249th Commander in which he deployed to the Republic of Panama in support of a New Horizons mission.
In 2010, upon completion of his command, he was assigned as the Brigade Aviation Officer for the 27th IBCT. In 2012, he deployed to Kuwait in support of Operation Enduring Freedom and was assigned to Area Support Group-Kuwait as the Garrison Commander of Camp Arifjan.
In 2013 LTC Charnley was assigned as the 42d DIV Airspace Management Officer, serving in that capacity during the Division's recent War Fighter Exercise.
LTC Charnley is a Master Army Aviator, and is Airborne and Air Assault qualified. He is employed as a military technician at AASF #2 as the Facility Supervisor. LTC Charnley is married to the former Karen DeLancey; they are the proud parents of their four children, Nicholas, Matthew, Kathleen, and Joseph.