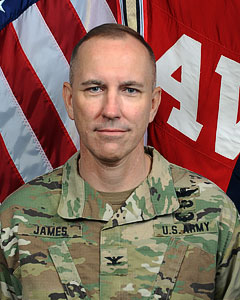 Colonel Jack James serves as commander of the 42d Combat Aviation Brigade, Latham, NY. In this capacity, he commands a brigade comprised of five army aviation battalions equipped with AH-64, UH-60, CH-47, and UH-72 helicopters, as well as accompanying maintenance, sustainment, and support troops.
His military career began upon graduation from West Point in 1992 when he was commissioned as a 2nd Lieutenant and attended the Aviation Officer Basic Course and flight school at Fort Rucker, Ala. where he qualified in the AH-1 Cobra attack helicopter.
Following flight school he was assigned as executive officer, Company C, 2nd Aviation Regiment, 2nd Infantry Division, Camp Stanley, Korea. He was then assigned to 1st Battalion (Attack), 25th Aviation Regiment, 25th Infantry Division, Wheeler Army Airfield, Hawaii, where he served as Company C "Outlaws" Attack Helicopter Platoon Leader, Battalion Assistant S-3 and S-4. During this tour he deployed to Haiti in support of Operation Uphold Democracy in 1995.
After attending the AH-64 Apache qualification course, Captain James was assigned to 4th Squadron, 3rd Armored Cavalry Regiment, Ft. Carson, Colo. He served as Squadron Assistant S-3 before commanding R Troop "Renegades," an AH-64 equipped attack helicopter troop. During this tour, he deployed with R Troop to Bosnia-Herzegovina in support of Operation Joint Forge/SFOR-7 in 2000.
In 2002, Captain James joined the New York Army National Guard, serving as Battalion S-2/3, 642nd Aviation Support Battalion, Brooklyn. Subsequently, he was assigned as Executive Officer, 3rd Battalion (Assault), 142nd Aviation Regiment, Albany, NY.
In 2006, Major James was selected as the 42nd Combat Aviation Brigade S-3, where he served until assuming battalion command in November 2011. Lt. Col. James played a key role in the planning and execution of numerous operations and training events including state active duty mobilization in support of JTF Empire Shield, New Horizons-Honduras, Operation Vigilant Guard, the CBRNE Consequence Management Response Force, Army National Guard aviation transformation, and several pre-mobilization training events. Lt. Col. James also served as the operations officer for New York's aviation response to Hurricane Katrina in September 2005, coordinating an aviation task force that grew to 28 aircraft and 500 Soldiers from four states, providing relief to citizens of the Gulf Coast region.
Lt. Col. James is a 1992 graduate of West Point and a 2003 graduate of New York University, where he earned a Master of Business Administration. He is also a graduate of several military schools, including the U.S. Air Force Air War College, Command & General Staff College, Aviation Officer Basic and Advanced Courses, Combined Arms & Services Staff School and the Electronic Warfare/ Aircraft Survivability Course. He is a current Pilot-in-Command in the UH-60 Blackhawk and is rated in the AH-64, AH-1 and UH-1 helicopters, as well as fixed wing aircraft. In 2015, Lt. Col. James graduated the Army War College DDE Program and was named Distinguished Honor Graduate.
Lt. Col. James' awards include the Meritorious Service Medal with four Oak Leaf Clusters (OLC), Army Commendation Medal with four OLCs, Army Achievement Medal with OLC, Army Reserve Component Achievement Medal with two OLCs, two National Defense Service Medals, two Armed Forces Expeditionary Service Medals, Global War on Terrorism Expeditionary Medal, Global War on Terrorism Service Medal, Korea Defense Service Medal, two Humanitarian Service Medals, Armed Forces Reserve Medal with M Device and Bronze Hourglass Device, three Overseas Service Ribbons, Army Reserve Components Overseas Training Ribbon and the NATO Medal. He also holds the Master Army Aviator Badge, Parachutist Badge, Air Assault Badge, and several New York State awards.
Lt. Col. James is married to the former Lesia Koropey and has three children: Katherine, Juliana, and Nicholas. In his civilian career, he is a Corporate Vice President at the New York Life Insurance Company, New York, NY.