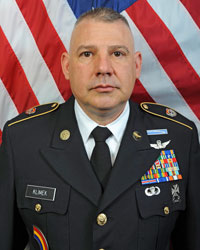 Command Sergeant Major Christopher K. Klimek enlisted as an 11B Infantryman in the United States Army in 1991 and completed One Station Unit Training - OSUT at Fort Benning, Georgia. He then went directly to Airborne School and upon graduation was ordered to Fort Bragg and the 82nd Airborne Division. While assigned to A Company, 1st Battalion, 504th Parachute Infantry Regiment, "The Devils in Baggy Pants", (then) SPC Klimek performed the duties of an M-249 SAW gunner, rifleman and part-time small arms repairman. He also deployed to the Sinai Peninsula, Egypt and participated in a Joint Readiness Training Center - JRTC rotation while assigned with A 1-504 PIR.
SPC Klimek later re-enlisted and reclassified MOS' to become a UH-60 Black Hawk helicopter repairman and upon graduation was assigned overseas again to A 1-501 AVN in Camp Humphreys, South Korea for a year before returning again to Fort Bragg; but this time with the 2nd Battalion of the 82nd Combat Aviation Brigade. He remained in aviation and in the same MOS from then on, and in 1996, he re-enlisted directly into the NYARNG through an in-service recruiter to B Company, 3rd Battalion, 142nd Aviation Regiment (at the time a CSAB - Combat Support Aviation Battalion, now an Assault Helicopter Battalion - AHB) where he was assigned for 17 years, progressing from the rank of SGT to 1SG.
While assigned to B Company, SSG Klimek deployed to Bosnia-Herzegovina in 2002-2003 and Iraq in 2004-2005. As a Platoon Sergeant, SFC Klimek deployed to Iraq again in 2008-2009, where he assumed the position of acting First Sergeant. Finally in 2010, he was promoted to 1SG. He also participated in numerous unit overseas training deployments while with B 3-142 to countries such as Iceland, Nicaragua, Honduras and Germany, along with a second rotation to JRTC. He later was assigned as HHC 3-142's First Sergeant and eventually Command Sergeant Major of the 3-142nd AHB.
With 25 total years in the military, CSM Klimek has spent 20 of those years in the 3-142nd. He is married to his wife, Veronica, and earned a Bachelor's of Science degree in aeronautics from Dowling College in Oakdale, New York. CSM Klimek is a Lifetime Member of the Veterans of Foreign Wars and the Enlisted Association of the New York National Guard, and a full-time technician at AASF-1 NY in Ronkonkoma, NY.
CSM Klimek served in aviation intermediate maintenance in Korea, and then he served in aviation unit maintenance when he returned to Fort Bragg. He also served as a squad leader, phase team leader, section sergeant, Aviation Life Support Equipment - ALSE Technician as well as a nonrated crew member Flight Instructor - FI and Standardization Instructor - SI. Some of the awards and decorations that CSM Klimek has earned include: six Army Achievement Medals, seven Army Commendation Medals, an Air Medal, Bronze Star, Expert Infantryman Badge, Master Aviation Badge and Parachutist badge. He has completed more than 1,600 flight hours with over 300 of them in combat, as a crew chief and flight instructor all aboard UH-60 Black Hawk helicopters.
After OSUT and Airborne School, SPC Klimek attended Primary Leadership Development Course at Camp Jackson, ROK to earn promotion to Sergeant, Aviation Life Support Equipment training at Fort Eustis, VA before returning to Fort Bragg, NC, Basic Noncommissioned Officer Course at Fort Indiantown Gap, PA to earn promotion to Staff Sergeant, Advanced Noncommissioned Officer Course at Fort Indiantown Gap prior to his first Iraq deployment, after which he was promoted to Sergeant First Class and attended the Aircraft Crewmember Standard Instructor Course at Fort Indiantown Gap, PA, prior to his second deployment to Iraq, the First Sergeant Course at Camp Williams, UT upon his return and for promotion to First Sergeant. He has completed the Senior Enlisted Joint Professional Military Education Course, is currently enrolled in the Sergeants Major Academy.