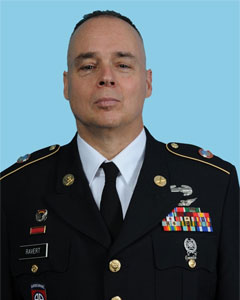 CSM Robert Ravert entered the United States Marine Corps in 1979 and completed basic training at Marine Corp Recruit Depot, Parris Island, SC. He trained as an Aviation Ordnance Munitions Technician (MOS 6521) at NAS Millington, TN. Completed On the Job Training (OJT) at MCAS Yuma, AZ. Deployed to Iwakuni, Japan and finished his career at MCAS El Toro, CA in 1983, when he was honorably discharged.
He returned to service in 1996 and trained as a Fire Support Specialist (13F). His military assignments include: FIST, HHC, 258 FA, 13F Instructor, 106th RTI, G3 Plans NCO, 42nd ID OIFIII (2005), Fires NCO HHC, 42nd CAB, Fire/EWO NCO 27th IBCT (OEF 2012), D-3/142 AVN BN, 42nd CAB OPS SGM and the 642 ASB. He has participated in various NYS activations to aid civil authorities from ice storms and floods to activities at the WTC in 2001.
His leadership positions include: Fire Support Team Leader, COLT team leader, G3 Plans NCOIC, Targeting NCOIC, 1SG and CSM. He served in a variety of positions: Rifleman, Ordnance man, Mechanic, Designated Marksman, Personal Security Detail member, Targeting Cell leader, Instructor, Plans member and Fire Support Coordinator. His military education consists of Fire Support Specialist, Electronic Warfare Officer, Collateral Damage Assessment officer, Total Army Instructor Training Course, Small Group Leaders Development Course, Combative level I, Designated Marksmanship Course, BNCOC, ANCOC, and the USASMA.
His awards include a Bronze Star for Service, Army Commendation Medals w three oak leaf clusters, an Army Achievement Medal, an Army Good Conduct Medal, a Marine Corps Good Conduct Medal, a Meritorious Unit Citation, a National Defense Medal, a Global War of Terrorism Medal, an Afghanistan Campaign Medal, an Iraq Campaign medal, a NATO medal, 5 Army Reserve Components Achievement Medals, an Armed Forces Reserve Medal with hourglass and "M" Device, Army Overseas Ribbon and Sea Service deployment ribbon.
CSM Ravert is currently a member of the NYC Fire Department. He resides in Queens, New York with his wife Barbara and daughter Olivia.