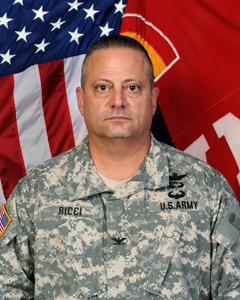 COL Albert J. Ricci Sr.
was born on October 27, 1961 in Yonkers, New York. In 2012 he received his Masters Degree in Strategic Studies from The US Army War College and 2003 graduated from the Command and General Staff College. His additional civilian education consists of; 1985 a Baccalaureate Degree from Embry-Riddle Aeronautical University, Daytona Beach, Florida in Aeronautical Studies as well as earning the distinction of being a ROTC Distinguished Graduate. He attended Nanuet High School in Nanuet, New York. COL Ricci holds Federal Aviation Administration licenses of Commercial Pilot: Airplane Single-Multi Engine Land, Instrument License and Commercial Helicopter Instrument License.
COL Ricci's Active Duty career began in 1985 when he attended the Aviation Officer Basic Course at Fort Rucker, Alabama. He graduated flight school and proceeded to obtain an UH-60 Blackhawk qualification. His first assignment was platoon leader H Company 227th Aviation Regiment, 3rd Armor Division in Hanau, West Germany. Other positions held while stationed at Hanau were; Battalion Assistant S3, and Battalion Flight Operations Officer, 227th Avn Regt. After attending the Aviation Advance Course at Fort Rucker his next assignment was Battalion S1 for 123rd Avn Regt, 7th Infantry Division (Light) at Fort Ord, California. In 1991 he was selected as Commander of A Company 123rd Avn Regt, 7th ID (L) where he led operations during the Los Angles Riots, JRTC Rotation and a Presidential Flight Operation to South America.
In 1992 he transitioned from active duty into the Individual Ready Reserve. In 1996, COL Ricci joined the Aviation Brigade, 42d Infantry Division (MECH), New York Army National Guard. He has held the full-time AGR positions of: Aviation Brigade; Executive Officer, Brigade S3, S1, Assistant S3 and Commander Army Aviation Flight Facility#1. He participated in Operation Iraqi Freedom (OIF) 04-06 deployment as the Aviation Brigade S3 and as Commander 3-142 Assault Helicopter Battalion, OIF 08-10. COL Ricci's additional operations include; World Trade Center Disaster response, New Horizons- Honduras Deployment, State emergencies, and numerous Divisional and Brigade Warfighting exercises.
COL Ricci awards include the: Bronze Star, 3 Meritorious Service Medals, Air Medal, 2 Army Commendation Medals, Army Achievement Medal, Army Reserve Components Achievement Medal, 2 National Defense Service Medals, 3 Iraqi Campaign Medals, Global War on Terrorism Expeditionary Medal, Global War on Terrorism Service Medal, Humanitarian Service Medal, Army Service Medal, Overseas Service Ribbon, Army Reserve Components Overseas Training Ribbon, Defense of Liberty with WTC device and 4 Aid to Civil Authority Medals. COL Ricci also earned the; Master Army Aviator Badge, Parachutist Badge and Air Assault Badge COL Ricci currently resides in Ballston Lake, New York with his wife Diane, their two daughters Kaelin and Briley and son AJ. He has five bothers and enjoys playing golf in his free time.