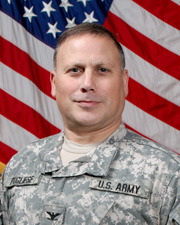 New York Army National Guard Colonel Philip Pugliese, a Rexford resident and Iraq War veteran, serves as Chief-of-Staff of the Troy-based 42nd Infantry Division.
As Chief-of-Staff, Pugliese runs the day-to-day operations of the division headquarters at the direction of the Division Commander.
Pugliese formerly served as the Director of Logistics for the New York Army National Guard, where he is responsible for maintenance, supply and transportation for the 10,500 member force. He has served in the Active Army and the Army National Guard since 1983.
During his military career he has served as a maintenance officer in a variety of Army units and as the commander of Headquarters and Headquarters Troop of the 11th Armored Cavalry Regiment' Combat Support Squadron in Germany, Commander of the New York Army National Guard's 145th Maintenance Company and Commander of the New York Army National Guard's 342nd Forward Support Battalion. He has also served as a training officer and plans officer.
Pugliese served as the Chief of the Division Material Maintenance Office for the 42nd Infantry Division and as the Logistics Officer for the 42nd Infantry Division in Kuwait and at Forward Operating Base Speicher in Tikrit, Iraq from October 2004 to November 2005.
His awards include the Bronze Star, Meritorious Service Medal, Army Commendation Medal, Iraq Campaign Medal, National Defense Service Medal, Global War on Terrorism Service Medal, Overseas Service Medal, Armed Forces Reserve Medal, New York State Defense of Liberty Medal (awarded for service in response to the 9/11 attacks) and the Army Parachutists Badge.
He holds a Bachelor's Degree in Business Administration from the State University of New York, Brockport and a Masters in Public Administration from Marist College. He is a graduate of the Army War College, and the Army Command and General Staff College.
He and his wife Robin have a daughter, Gabriella.