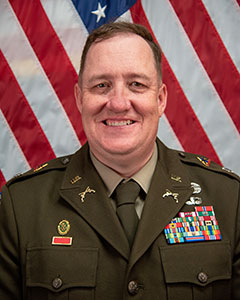 LTC(P) Marshall J. Hunt earned his commission as a Military Police Officer through the Canisius College Army ROTC program in 2004. Prior to attending Canisius, he served on Active Duty as an enlisted Soldier in the Infantry.
LTC(P) Hunt served on Active Duty from 2004 to 2010 to include duty as a Military Police Platoon Leader and Company Commander.
Since transitioning to the NYARNG in 2010, LTC Hunt has served as the 27th Infantry Brigade Special Troops Battalion S3 and XO, 27th Infantry Brigade Combat Team S3, NYARNG State Training Officer and Deputy G3, Commander of the 104th Military Police Battalion and as XO of the 27th Infantry Brigade Combat Team.
LTC(P) Hunt is currently the Chief of Staff of the 42nd Infantry Division.
LTC Hunt's overseas Deployments include OPERATION INTRNSIC ACTION in Kuwait, OPERATION IRAQI FREEDOM in Tal Afar, Iraq, OPERATION ENDURING FREEDOM in Kuwait and a two-year tour in South Korea. Domestic Civil Support Operations include COVID-19 Response at the Javits Center in New York, NY, support to the 59th Presidential Inauguration in Washington, DC, and response to the 2022 Buffalo Blizzard.
LTC(P) Hunt is a graduate of Infantry OSUT, Military Police Special Reaction Team, Officer Basic Course, Captains Career Course, and Battalion Pre-Command Course, US Army Command and General Staff College, Defense Strategy Course, and the US Army War College. He earned a BA in History from Canisius College and an MA in Strategic Studies from the US Army War College.
His awards and decorations include the Bronze Star Medal, Meritorious Service Medal (4th award), Army Commendation Medal (3rd Award), Army Achievement Medal (4th Award), Coast Guard Achievement Medal (w/"O" device), Army Good Conduct Medal, Parachutist Badge and the Combat Action Badge.
LTC(P) Hunt was born and raised in Buffalo, NY and currently resides in Whitesboro, NY with his Daughter Reagan (age 12) and Son Griffin (age 9).
As of 2023AUG04