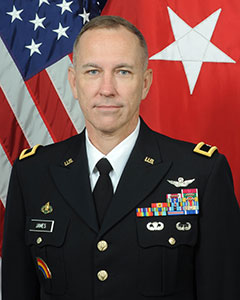 Brigadier General Jack A. James serves as Deputy Commanding General – Maneuver for the 42d Infantry Division, Troy, NY since October 2021. Prior to this assignment, he served as Commanding General of the 53d Troop Command, NYARNG. In this capacity he commanded over 4,000 Soldiers in two Brigades consisting of Engineer, Explosive Ordnance Disposal, Military Police, Sustainment and Signal battalions, a Digital Liaison Detachment, two Civil Support Teams, and a Cyber Protection Team.
BG James was commissioned in 1992 and has held several positions including attack helicopter platoon leader, attack helicopter troop commander, battalion logistics officer, battalion operations and executive officer, and brigade operations officer in both the active Army and the Army National Guard. He commanded the 642d Aviation Support Battalion before leading the 42d Combat Aviation Brigade until 2019.
BG James is a traditional National Guard Soldier who has balanced civilian and military careers for twenty years. In his civilian career, BG James serves as Vice President, Risk Management for New York Life, a Fortune 100 company with over 14,000 employees and annual revenue in excess of $44 billion.
He is a graduate of the United States Military Academy, and holds a Master's degree from the Army War College and an MBA from New York University. BG James is a Master Army Aviator and is rated in the AH-64, AH-1, UH-60, UH-1 and fixed wing aircraft.
BG James is married and has three children. In his free time, he is most interested in spending time with his children and enjoying the outdoors.
Current as of 17 NOV, 2022