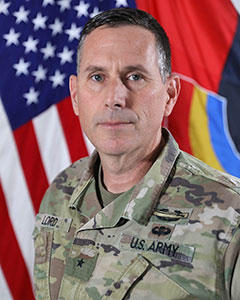 Brigadier General Nathan Lord is the deputy commander for support for the 42nd Division.
Lord was promoted to the rank of brigadier general by Major General Thomas Spencer, the commander of the 42nd Infantry Division.
Lord, a 32-year veteran of the Army National Guard, started his military career in the 3rd Battalion, 172nd Infantry (Mountain) of the Maine Army National Guard in 1988.
His assignments include company executive officer and company commander, operations officer at the Mountain Warfare School at Camp Ethan Allen, Vermont, battalion executive officer, operations officer for the 86th Troop Command, training officer and executive officer for the 86th Infantry Brigade Combat Team and operations officer for the Vermont Army National Guard.
Lord commanded the 3rd Battalion, 172nd Infantry (Mountain) from 2006-2009 and the Army Mountain Warfare School from 2009-2011.
He served as the Executive Officer for the 86th Brigade Combat Team from 2011-2013.
He then served as the Brigade Commander for the 86th Infantry Brigade Combat Team from August 2017 to July 2020. His most recent assignment was as the Vermont Army National Guard Chief of Staff from July 2020.
Lord is a veteran of Operation Enduring Freedom serving in Afghanistan as the Battalion Training Team Chief from 2003-2004.
His awards and decorations include among others the Bronze Star medal, Meritorious Service Medal, Army Commendation Medal, Army Achievement medal, the Parachutist Badge, the Combat Infantryman's Badge, and the Ram's Head Device.
Lord is a graduate of the United States Army War College, Army Mountain Warfare School, the Winter Assault Climber Course, the Sniper Course, Northern Warfare Training Center, and the Norwegian Winter Warfare School.
Lord grew up on the coast of Maine and currently lives in Waterbury, Vermont with his wife Sarah, son Sam, and daughter Elizabeth.
Current as of 13 Jan, 2022