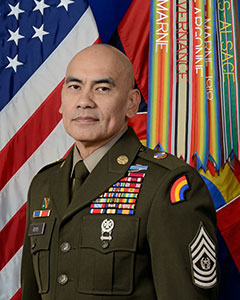 CSM Arnold G. Reyes is a native of the Philippines and resides in Selden, NY. He entered the Army Reserves in June of 1983 and completed Basic training at Ft Sill, Ok. He graduated from the Operating Room Specialist course at Ft Sam Houston, TX and completed OJT at the Walter Reed Army Medical Center, Washington DC. He reclassified his MOS as an Infantryman in 1988 at Ft Drum, NY and as a Stinger Missile Crewman at Ft. Bliss TX.
His military and civilian education includes the Primary Leadership Development Course, Basic Noncommissioned Officer Course, Advanced Noncommissioned Officer Course, United States Army Sergeants Major Academy, U.S. Army Strategic Education: Wharton School (University of Pennsylvania), Nominative Leaders Course: Army War College, Officers Candidate School TAQ Instructor Course, Total Army Instructor Trainer Course, Retention Career Counselor Course, Unit Anti-Terrorism Advisor Course, the Combat Lifesaver Course, and the Tactical Combat Casualty Care Course.
He attended Albany State University, NY. CSM Reyes is a graduate from the Northport Veteran's Administration Medical Center's School of Nuclear Medicine Technology, and Board certified and Registered in that specialty. CSM Reyes graduated from the Suffolk County Police Academy, NY and completed a Certificate in Police Administration from Suffolk County Community College, NY.
His military assignments included the 344th General Hospital, 808th Station Hospital, 1-105th Infantry Regiment, 71st Infantry Regiment, 1-69th Infantry Regiment, 1-69th Air Defense Artillery Regiment, the 106th Regional Training Institute (RTI).
He served as a CSM within the following units: 1-258th Field Artillery Battalion, the 2-108th Infantry Battalion, New York State's Anti-Terrorism Joint Task Force: Empire Shield, the NYS Dual Status Command during COVID Operations, and the 42nd Expeditionary Combat Aviation Brigade.
CSM Reyes' awards and decorations include the Bronze Star Medal, Meritorious Service Medal (3 Bronze Oak leaf), Army Achievement Medal (3 Bronze Oak leaf), Good Conduct Medal, Iraq Campaign Medal (Silver Star device), Army Reserve Components Achievement Medal , National Defense Service Medal (Bronze Star device), Iraq Campaign Medal (Bronze Star device), Global War on Terrorism Service Medal, Armed Forces Reserve Medal (Hourglass and M Devices), Noncommissioned Officer Professional Service Ribbon (Numeral 5), Army Service Ribbon, NYS Medal for Meritorious Service, NYS Long And Faithful Service Award (Gold and 2 Silver Shields device), NYS Defense of Liberty Medal (World Trade Center device), NYS Conspicuous Service Cross, NYS Aid to Civil Authority Medal(2), Humane Service to NYS medal (Silver Device), Recruiting Medal, and the Combat Infantryman Badge. He is the recipient of the Field Artillery Order of St. Barbara's and the Infantry Order of Saint Maurice.
CSM Reyes is a Police Officer with the Suffolk County Police Department, a member of the Medical Crisis Action Team as a Tactical Medic and trained in Crisis Intervention. He is a volunteer with the Selden Fire Department, NY and serves his community as a NYS EMT- Paramedic. CSM Reyes resides in Selden, NY with his wife, Corinne Reyes of Centereach, NY, and has a daughter, Brianna and son, Vincent.
As of 2023AUG04