About Us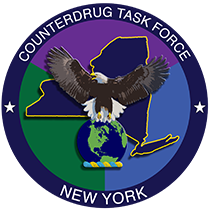 The National Guard Counterdrug Task Force contributes military support for local, state and federal Law Enforcement Agencies and Community Based Organizations as well as Combatant Commanders.
They work at all levels of government to anticipate, deter, and defeat these threats in order to enhance national security and protect our society.
The National Guard Counterdrug Task Force personnel are woven into the fabric of our communities all across America; operating in 54 states and territories.
The Men and Women, Soldiers and Airmen of the National Guard Counterdrug Program are Always Ready, Always There – Institutionalizing Full-Spectrum Capabilities.
How We Help
The New York National Guard Counterdrug Task Force offers partnership and support to community groups and law enforcement agencies. By offering the Army and Air National Guard's unique and specialized resources, the New York Counterdrug Task Force provides their civilian counterparts with the tools needed to fight the spread of illicit drugs and abuse in New York.
Assisting Law Enforcement:
Counterdrug members provide their partners in federal, state and local law enforcement specialized tools and expertise. Counterdrug members do not directly arrest or keep any information on individuals. Instead, theCounterdrug program supports law enforcement, helping them focus on what they do best.
Assisting Community Groups:
The New York National Guard Counterdrug Task Force recognizes that changing a culture of drug use and addiction requires the efforts of the entire community.
Counterdrug members partner with community groups to fight the spread of illicit drugs through community outreach and education. Whether assisting law enforcement or community groups, Counterdrug offers its civilian partners experience in the field, in leadership skills, dependability and military training.