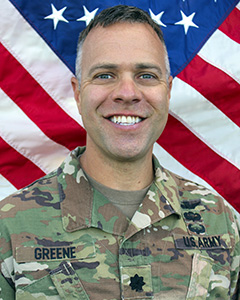 LTC Matthias (Matt) E. Greene
After commissioning, LT Greene led an Air Cav Platoon in 2-17 Cavalry Regiment during the invasion of Iraq in 2003.
Returning to Iraq in 2006-07, CPT Greene supervised an intelligence section in 2-6 Cavalry Regiment. Upon entering the Wyoming Army National Guard, MAJ Greene commanded a MEDEVAC Company in eastern Afghanistan from 2009-10. LTC Greene is rated in the OH-58D and UH-60A/L and has amassed over 2,000 flight hours.
LTC Greene has served in the following staff positions: Assistant Operations Officer in 2-17 Cav, Airspace Management Officer in 115th FiB, Battalion Executive Officer of 94th Troop Command, and G1 for the WYARNG. His Joint experience was in the NGB J5, as Branch Chief in State Partnership Program and Homeland Defense/Civil Support sections, and a detail to the Office of the Secretary of Defense.
As a traditional drilling Guardsman, in his civilian employment, Matt was a deputy county attorney in Park County, Wyoming. A strong believer in community service, Matt represented his neighbors for two terms in the Wyoming State House as a State Representative.
LTC Green possesses a Political Science degree from Spring Hill College, Juris Doctor from University of Wyoming, and Masters in International Service from American University. He is currently enrolled at the Naval War College.
LTC Greene's awards include: Master Army Aviator Badge, Parachutist Badge, Air Assault Badge, Bronze Star, Air Medal (9), ARCOM (4), AFCOM, AAM, National Defense Service Medal, Afghanistan Campaign Medal, Iraq Campaign Medal (2), GWOT Expeditionary Medal, GWOT Service Medal, Overseas Ribbon (3), NATO Medal