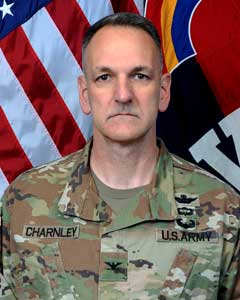 Colonel Michael Charnley entered the United State Army in 1991 and attended Warrant Officer Flight training, graduating from flight school in 1992. During his active service he served as a Warrant Officer in various assignments in Korea and Fort Campbell, KY before being selected to attend Officer Candidate School (OCS) at Fort Benning in 1998.
Upon commissioning, Charnley served as a company Executive Officer and Platoon Leader in 1-10 Aviation (Attack). In 1999 he was deployed to Bosnia as part of the 10th Mountain Division Brigade Task Force in support of Operation Joint Forge.
In 2001, he transferred to the New York National Guard and was assigned as the Battalion Intelligence Officer for the 1-142 Aviation Battalion (Attack) Charnley was later assigned to the 249th Medical Company (Air Ambulance) as a Platoon Leader.
He deployed in support of Operation Nobel Eagle, the post Sept. 11, 2001 security mission in the United States, and Hurricane Katrina. Charnley was then selected as the 249th Commander in which he deployed to the Republic of Panama in support of a New Horizons mission.
In 2010 Charnley was assigned as the Brigade Aviation Officer for the 27th Infantry Brigade Combat Team. While assigned there he deployed to Kuwait in support of Operation Enduring Freedom and served as the Garrison Commander of Camp Arifjan. Upon his return from Kuwait he was assigned as the 42d Infantry Division (ID) Division Airspace Management Officer.
In 2014 Charnley was selected as the Battalion Commander of the 642d Aviation Support Battalion (ASB).
After completing that command he was selected to attend the resident United States Army War College at Carlisle Barracks, PA, graduating in 2017. Returning from Carlisle, Charnley was again assigned to the 42d ID as a Liaison Officer, followed by assignments as the Executive Officer for the 42d Combat Aviation Brigade (CAB) and the Operations Deputy in the Army Forces Command Aviation directorate.
Charnley is a Master Army Aviator, and is both Airborne and Air Assault qualified. He is a graduate of the Aviation Officer Basic Course, Medical Services Captains Career Course, Combined Arms & Service Staff School, Advanced Operations Warfighting Course, and the US Army War College. He holds a Bachelor of Arts in Politics and Master's in Strategic Studies.
He is qualified in the AH-1F, OH-58D, UH-1V, and UH-60.
Charnley is a full-time National Guard officer.
Charnley is married to the former Karen deLancey. They are the proud parents of their four children, Nicholas, Matthew, Kathleen, and Joseph and live in Churchville, N.Y.
Current as of JUL 24, 2019