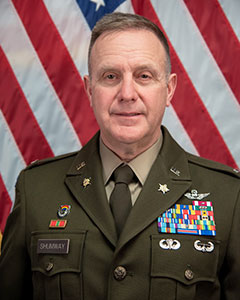 Chief Warrant Officer Five (CW5) Mark Shumway serves as Command Chief Warrant Officer (CCWO) of the 42d Combat Aviation Brigade, Latham, NY. His military career began upon his active duty enlistment in 1991. After Basic Combat Training he attended Warrant Officer Candidate School followed by flight school at Fort Rucker, Alabama, where he qualified in the UH-1 helicopter.
Shumway was then assigned as a UH-1 and UH-60 Pilot, 18th Airborne Corps, Ft. Bragg, North Carolina. He was then assigned to Company B, 2nd Battalion (Assault), 1st Aviation Brigade, 1st Infantry Division, Katterbach, Germany, where he served as an operations officer and instructor pilot. During this tour he deployed to Bosnia-Herzegovina in support of IFOR/SFOR (1995-1996) and Kosovo in support of KFOR (1999-2000).
After attending the Warrant Officer Advanced Course, Shumway was assigned to Company A, 2nd Battalion (Assault), 10th Combat Aviation Brigade, 10th Mountain Division in Ft. Drum, NY where he served as the company standardization officer. During this tour, he deployed to Kuwait for Operation Iraqi Freedom (OIF) in 2003.
In 2004, Shumway joined the Pennsylvania Army National Guard where he served full-time (AGR) at the Eastern Army Aviation Training Site (EAATS), Ft. Indiantown Gap as an instructor for the UH-60 aviator qualification course, instrument flight examiner preparation course and pre-deployment aviator training course.
In 2005 Shumway transferred to the New York Army National Guard as a full-time Military Technician flight instructor. He has held several positions within the 3rd Battalion, 142nd Aviation Regiment in Latham and Ronkonkoma, NY. His assignments with the 3-142 included: Company Safety Officer, Company Standardization Officer and Battalion Standardization Officer. Shumway deployed to Iraq from 2008 to 2009.
In 2013 Shumway was assigned to HHC, 42nd Combat Aviation Brigade as the Aviation Master Gunner in the Operations section (S3) and was subsequently promoted to CW5. Later that year he deployed to Kuwait (2013-2014) for Operation Enduring Freedom (OEF), where he functioned as the Airfield Manager for Udairi Army Airfield.
In 2015 Shumway was selected to serve as the first-ever Command Chief Warrant Officer for the 42nd Combat Aviation Brigade; a position which was established force-wide at the Army Aviation Brigade level. He currently serves on the Brigade Command team along with the Brigade Commander and Brigade Command Sergeant Major.
Shumway is a 1990 graduate of Virginia Tech and a 2017 graduate of Embry Riddle Aeronautical University, where he earned a Bachelor's degree in Professional Aeronautics. He is a Graduate of the Army Warrant Officer Senior Staff Course, Warrant Officer Staff Course and the Aviation Warrant Officer Basic and Advanced Courss. His flight courses include Initial Entry Rotary Wing, UH-60 qualification, UH-60 Instructor Pilot, Rotary Wing Instrument examiner, Electronic Warfare Officer, Aviation Safety Officer, Aviation Master Gunner, UH-72 qualification, and UH-72 Instructor Pilot. He is a Standardization Instructor Pilot and Instrument Examiner for the UH-72 Lakota helicopter and is rated in the UH-60 Blackhawk, and UH-1 Iroquois (HUEY) helicopters.
Shumway's awards include the Meritorious Service Medal, Air Medal, Army Commendation Medal, Army Achievement Medal, Army Reserve Component Achievement Medal, National Defense Service Medal, Armed Forces Expeditionary Service Medals, Global War on Terrorism Expeditionary Medal, Global War on Terrorism Service Medal, Humanitarian Service Medal, Armed Forces Reserve Medal with M Device and Bronze Hourglass Device, Overseas Service Ribbon, Army Reserve Components Overseas Training Ribbon, and the NATO Medal. He also holds the Master Army Aviator Badge, Parachutist Badge, Air Assault Badge, and several state awards.
CW5 Shumway is married to the former Suzanne LeBarron and has five children: Ryan, Melissa, James, Lynsey, and Leah. His full-time duties include being the Standardization Officer at Army Aviation Support Facility 3 at the Albany International Airport, Latham, NY.