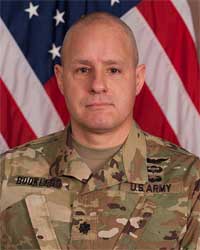 Lieutenant Colonel Todd M. Bookless is a native of White Plains, New York. He commissioned as a Second Lieutenant in May 1994 from the Unites States Military Academy. He attended the Aviation Officer Basic Course and flight school at Fort Rucker, AL where he qualified in the UH-1 Huey and OH-58A/C Kiowa helicopters.
Following flight school, he was assigned as a Platoon Leader, C Company, General Support Aviation Support Battalion (GSAB), 24th Infantry Division, Hunter Army Airfield, Savannah, GA. He was then assigned as the Assistant S3 for the 2nd Battalion, 3rd Infantry Division after the redesignation of the 24th ID to 3rd ID in April 1996. He additionally attended the OH-58D Kiowa Warrior Qualification course while stationed with the 3rd ID.
CPT Bookless' next assignment was to Ft. Hood, TX where he held the positions of Brigade Assistant S4 for the 4th Aviation Brigade, 1st Cavalry Division. He then commanded D Troop, 1st Squadron, 7th Cavalry Regiment, 1st Cavalry Division.
In 2002, CPT Bookless joined the New York Army National Guard, serving as the Liaison Officer in the Combat Aviation Brigade (CAB), 42d Infantry Division in Patchogue, NY. MAJ Bookless then deployed with the unit as the Assistant S3 in support of Operation Iraqi Freedom in Forward Operating Base Speicher, Tikrit, Iraq. He served as the Brigade S3 for the last two months of the deployment.
Upon return to the U.S., MAJ Bookless was assigned as the S2 of the CAB where he served until his promotion to Lieutenant Colonel. He then served as the Airspace Management Officer for the 42ID. He deployed with the 27th Infantry Brigade Combat Team in 2011-2012 as the 27th Military Engagement Team Executive Officer. The team was based out of Kuwait and LTC Bookless conducted engagements in Iraq and Jordan.
Returning from deployment, LTC Bookless was assigned as the G8, 42ID where he served until being selected as the OIC of the HHBN 42ID (FWD). The unit deployed to Guantanamo Bay, Cuba in 2015-2016 in key billets for the Joint Task Force. LTC Bookless was the J3 Deputy Director.
LTC Bookless is a graduate of the Aviation Officer Basic Course, Aviation Captain Career Course, Combined Arms & Services Staff School, NATO Reserve Forces Integration Course, Command & General Staff College and Advanced Operations Warfighting Course. He holds a Bachelor's of Science in Systems Engineering. He is qualified in the UH-1, OH-58A/C, OH-58D and UH-60A/L. He is married to the former Meredith Herr and has one daughter: Emma. In his civilian career, he is a Vice President at the Royal Bank of Scotland.
Lieutenant Colonel Bookless' Awards and Decorations include:
Meritorious Service Medal
Defense Meritorious Service Medal
Air Medal
Army Commendation Medal w/3 OLC
Joint Service Achievement Medal
Army Achievement Medal w/OLC
Army Reserve Component Achievement Medal w/2 OLC
National Defense Service Medal x 2
Armed Forces Expeditionary Medal x 2
Global War on Terrorism Expeditionary Medal
Global War on Terrorism Service Medal
Overseas Service Ribbon x 3
Armed Forces Reserve Medal with M Device w/10yr bronze Hourglass
Army Service Ribbon
Military Outstanding Volunteer Service Medal
Army Aviator Badge
Parachutist Badge
Air Assault Badge
Current as of 20 SEP, 2016