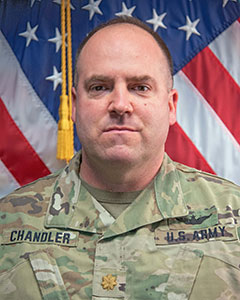 Major Henry T. Chandler, a native of Portland, OR, enlisted in the Montana Army National Guard in 2001 as an Infantryman. In 2003 MAJ Chandler enrolled in the Reserve Officer Training Corp and received his commission in 2005 as a graduate of Montana State University in Bozeman, MT, where he earned a Bachelor of Science degree in Business Management.
Upon completion of the Aviation Officer Basic Course, Initial Entry Rotary Wing Course, and the UH-60 Blackhawk Aircraft Qualification Course, MAJ Chandler was assigned to Charlie Company, 1-137th Assault Helicopter Battalion, Indiana Army National Guard, in Shelbyville, Indiana. He served as a Platoon Leader October 2007 to December 2009, and deployed to Balad Iraq from January – December 2009.
Following his deployment, MAJ Chandler transferred to the New York Army National Guard and was assigned to 3-142nd Assault Helicopter Battalion from January 2010 until January 2018. During this time, he served as the Battalion S1, Bravo Company Commander, and Battalion S3.
In January 2018, MAJ Chandler was assigned to Headquarters, 42d Combat Aviation Brigade where he served as the Assistant S3 while completing the Command and General Staff Officer Course and the Advanced Operations Course.
In March 2021, MAJ Chandler was assigned as the New York Army National Guard Collective Training Manager. In November 2021, he was assigned as the Commander of AASF #3 in Latham, NY.
MAJ Chandler's awards and decorations include the Meritorious Service Medal (2nd Award), Air Medal, Army Commendation Medal, Army Achievement Medal, National Defense Service Ribbon, Global War on Terrorism Service Medal, and the Senior Army Aviator Badge.
MAJ Chandler is married to Ashley Erdmann of Sebastopol, CA. They have one child, Kai Chandler.
Current as of 8 FEB, 2022