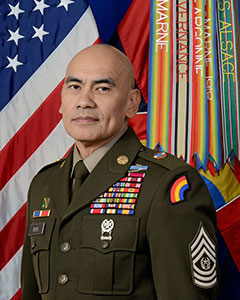 CSM Arnold G. Reyes entered the Army Reserves under the Split-Option Enlistment program in June of 1983 and completed Basic Training at Fort Sill, Ok. He graduated from Ross High School, Brentwood, NY, that following year in 1984 and attended Advanced Individual Training as an Operating Room Specialist (91D) at Ft Sam Houston, TX and at the Walter Reed Army Medical Center (WRAMC), Washington DC. He entered the NYARNG in 1988 and reclassified his MOS as an Infantryman (11B). In 1993, during a battalion reorganization, he acquired another MOS and transitioned as a Stinger Missile Crewman (16S) at the Air Defense Artillery School Branch, Fort Bliss TX.
His military assignments included the USAR's 344th General Hospital, 808th Station Hospital, NYARNG's 1st Battalion 105th Infantry Regiment, 71st Infantry Regiment, 1st Battalion 69th Infantry Regiment, 1st Battalion 69th Air Defense Artillery Regiment, the 106th Regional Training Institute (RTI), the 1st Battalion 258th Field Artillery Regiment, the 2nd Battalion 108th Infantry Regiment, New York State's Anti-Terrorism Joint Task Force: Empire Shield, and New York's Duel Status Command Operation: COVID-19.
CSM Reyes' leadership positions include Brigade Command Sergeant Major, 2 assignments as a Battalion Command Sergeant Major, First Sergeant, Squad Leader, and Scout Team Leader. During his military career, CSM Reyes has served as an Operating Room Specialist, Stinger Missile Crew Member, Infantry Rifleman, Infantry Dragon Gunner, Infantry Reconnaissance Scout, a Combat Arms Branch Chief, an OCS / TAQ Instructor, and a Certified Infantry School Instructor.
He deployed to Baghdad, Iraq in support of Operation Iraqi Freedom III from 2004-2005 as Infantry Platoon Sergeant, assigned with B Co, 1st Battalion 69th Infantry Regiment. His company was attached to the U.S. Army's 5th and 10th Special Forces Group's Combined Joints Special Operations Task Force Command and reassigned to 1st Battalion 69th Infantry Regiment's Task Force Wolfhound, conducting combat operations in Baghdad, Iraq. He participated in several NY State activations in aid to civil authorities and for relief operations in natural disasters, to include events immediately following 9/11 at NYC's Ground Zero and the NYS pandemic crisis during Operation: Covid-19.
CSM Reyes' military and civilian education includes the Primary Leadership Development Course, Basic Noncommissioned Officer Course, Advanced Noncommissioned Officer Course, the United States Army Sergeants Major Academy, Officers Candidate School TAC Instructor Course, Total Army Instructor Trainer Course, Unit Attrition Management / Retention Career Counselor Course, Unit Anti-Terrorism Advisor Course, Commander's Safety Course, the Combat Lifesaver Course, and the Tactical Combat Casualty Care Course. He is currently a NYS Certified Advanced Emergency Medical Technician- Critical Care. He attended Rutgers University, NJ and SUNY-Albany, NY in pursuing a BS in Biological Sciences. He graduated from the Northport Veterans Administration Medical Center's School of Nuclear Medicine Technology and a Board Certified and registered CNMTB and ARRT(N). CSM Reyes graduated from the Suffolk County Police Academy, NY and completed a Certificate in Police Administration from Suffolk County Community College, NY.
CSM Reyes' awards and decorations include the Bronze Star Medal, Meritorious Service Medal (2nd award), Army Achievement Medal (3rd Award), Good Conduct Medal, Iraq Campaign Medal (Silver Star device), Army Reserve Components Achievement Medal, National Defense Service Medal (Bronze Star device), Iraq Campaign Medal (Bronze Star device), Global War on Terrorism Service Medal, Armed Forces Reserve Medal (Hourglass and M Devices), Noncommissioned Officer Professional Service Ribbon (Numeral 4), Army Service Ribbon, NYS Medal for Meritorious Service, NYS Long And Faithful Service Award (Gold and Silver Shield device), NYS Defense of Liberty Medal (World Trade Center device), NYS Conspicuous Service Cross, NYS Aid to Civil Authority Medal, Humane Service to NYS Medal (Silver Device), and the Combat Infantryman Badge. He is the recipient of the Field Artillery Order of St. Barbara Medal and the Infantry Order of Saint Maurice Medal.
CSM Reyes is currently a Police Officer with the Suffolk County Police Department and a member of the MedCAT (Medical Crisis Action Team) as a Tactical Medic and Patrol rifleman. He continues to serve his community as a volunteer with his local Fire Department providing Advanced EMS Life Support as an Advanced EMT-Critical Care.
CSM Reyes resides in Selden, NY with his wife, Corinne Reyes of Long Island, NY, and their two children Brianna and Vincent.