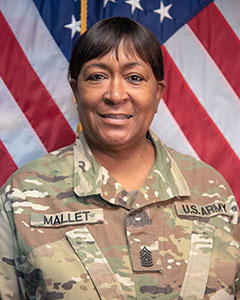 CSM Debora F. Mallet enlisted into the United States Army in the delayed entry program in 1980. Upon graduating from High School in 1981, she attended Basic Training and Advanced Individual Training at Fort Gordon, Georgia. Her first duty assignment was as a Telecommunications Equipment Operator with the United States Army Aviation & Missile Command at Redstone Arsenal, Alabama.
In 1982, she was reassigned to the 440th Signal Battalion, 22nd Signal Brigade, V Corps, United States Army Europe (USAREUR), where she spent five years working as a Tactical Telecommunications Center Operator and other duties in the signal field in Darmstadt, Federal Republic of Germany. In 1987, she was reassigned to the 29th Signal Battalion, Headquarters I Corps and Fort Lewis at Fort Lewis, Washington where she held various positions of increased responsibility in the signal field – leaving active duty as a Staff Sergeant in 1991.
She continued military service as a member of the New York Army National Guard as a Property Book NCO in the 27th Infantry Brigade Combat Team before being reassigned to the 427th Brigade Support Battalion, with assignments that included Squad Leader, Commodities Manager, the Combat Service Support Automation Management Office (CSSAMO) Section Sergeant, Platoon Sergeant, Support Operations NCOIC, Rear Detachment Operations Sergeant, First Sergeant, and ultimately as the Senior Enlisted Advisor and Battalion Command Sergeant Major.
CSM Mallet was part of the response force to New York City following the 9/11 Terrorist Attacks where she led a team tasked with securing the Bridges and Tunnels. She deployed to Afghanistan in 2008 as part of Combined Joint Task Force Phoenix VII, in support of Operation Enduring Freedom, with the 27th Infantry Brigade Combat Team serving as the Support Operations NCOIC in the 427th Brigade Support Battalion. In 2020, CSM Mallet deployed to Kuwait with the 42nd Infantry Division in support of Operation Spartan Shield (OSS) - Task Force Spartan as the Supply and Services NCOIC in the Division G-4 Section.
CSM Mallet is a 2017 graduate of the United States Army Sergeants Major Academy.
Her awards and decorations include the Meritorious Service Medal (4th Award), Army Commendation Medal (2nd Award), Army Achievement Medal (8th Award), Army Good Conduct Medal (3rd Award), Army Reserve Components Achievement Medal (7th Award), National Defense Service Medal (2nd Award), Global War on Terrorism Expeditionary Medal, Global War on Terrorism Service Medal, Afghanistan Campaign Medal, Humanitarian Service Medal, Non-Commissioned Officer Professional Development Ribbon with the Numeral 5 Device, Army Service Ribbon, Overseas Service Ribbon (3rd Award), Armed Forces Reserve Medal with 10-year Device-Bronze Hourglass and "M" Aperture, and the NATO Medal.
CSM Mallet is the proud parent of her two children and grandparent of her seven grandchildren.
Current as of 8 FEB, 2022