Information for Reporters and Editors
Our most recent press releases can be found here.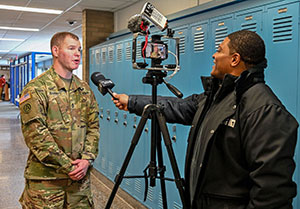 The New York State Division of Military and Naval Affairs Office of Public Affairs provides a single, central point of contact for information about the New York Army and Air National Guard, Naval Militia and State Guard, as well as DMNA's other non-military functions.
Reporters, editors and the general public may call the Public Affairs Office at (518) 786-4581 during normal business hours: Monday - Friday, 8:00AM - 5:30PM.
News media queries may also be emailed to the DMNA Public Affairs Director eric.d.durr.nfg@mail.mil
In the case of a breaking news item during off-duty hours, members of the news media may call Mr. Eric Durr at (518) 429-5186. Please leave your name, news organization, subject of your inquiry and deadline.
Our website also offers Photographs that can be used to illustrate your story. If you are a journalist writing an article involving the New York National Guard, feel free to use the following resources to find material relating to your article:

Browse this site's Image inventory


Visit the National Guard Flickr image website
Congressional representatives, state legislators, local officials and their staffs are respectfully asked to direct their questions to the DMNA Office of Government Affairs: (518) 786-4580.

Government Shutdown Fact Sheet


NYS DMNA CST Fact Sheet


NYS DMNA Iraq War Fact Sheet


NYS DMNA Sequestration Fact Sheet