Information for Reporters and Editors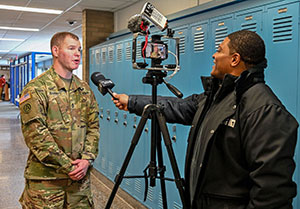 The New York State Division of Military and Naval Affairs Public Affairs office provides a single, central point of contact for information about the New York Army National Guard, the New York Air National Guard, the New York Naval Militia, the New York Guard, and the New York State Division of Military and Naval Affairs.
Our latest press releases are posted on Readmedia: http://readme.readmedia.com/nysmil.
All other press releases can be found in the Press Release Archive.
Stories and photographs about the New York National Guard can be found on the Defense Video & Imagery Distribution System (DVIDS) website.
The Public Affairs Press Office can be reached at (518) 786-4581 Monday - Friday, 8:00AM - 5:00PM.
The after hours press contact number is (518) 429-5186 (Mr. Eric Durr) or (518) 727-7314 (Col. Richard Goldenberg). You can e-mail Eric Durr @ eric.d.durr.nfg@mail.mil with media inqueries.
Our website offers photographs which are available for use by the public and press at the links below:
Below you will information that may be helpful to you:
Congressional representatives, state legislators, local officials and their staffs are respectfully asked to direct their questions to the DMNA Office of Government Affairs: (518) 786-4580.