Updated:
20 Jan 15 11:49
State Active Duty (JTF-ES) Temporary Duty
Joint Task Force Empire Shield's primary goal is to detect, deter, and prevent potential terrorist operations in the New York City Metropolitan Area. Security operations are implemented daily through pre-planned programs using a random and strategic methodology. Joint Task Force Empire Shield is designed to respond to a wide range of incidents. By developing a highly trained force in incident response and command, the Task Force prepares for domestic emergencies caused by humans or natural phenomena using lessons learned and best practices.
---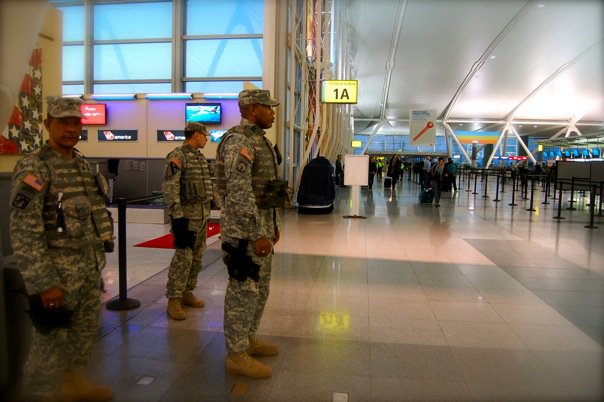 Photo by Army National Guard CPT Jessica Jurj
---
Joint Task Force Empire Shield is looking for strong candidates from the New York Army and Air National Guard who exemplify strong morals and judgment, have leadership qualities and are fit for duty.

Photo by Air National Guard Staff Sergeant Marcus Calliste
---
***The vacancies advertised with JTFES can only be filled by New York Army and Air National Guard Service Members***
There are no vacancies at this time
The Force Protection Specialist will be carrying out day to day missions and tasking's such as security at NYC Metropolitan Area and Transit Hubs. They will conduct presence (foot) patrols in order to deter, detect and prevent terrorist acts.
-The Force Protection NCO will be an experienced and professional leader placed in a position to supervise and train protection elements. Their leadership positions will range from Squad, Platoon or Staff positions.
To apply: download the JTFES application for temporary duty and fill it in electronically. You must be as detailed as possible in your application.
In addition to the application you MUST also submit the following:
Most recent DA Form 705 APFT or equivalent PFT evaluation sheet (if your branch of service is not Army)
Most recent Weapon Qualification Score Sheet (Air Force if available)
Although the following documents are not required for temporary duty consideration, they are highly recommended:
Cover Letter (Required for Officers)
Resume
Letter(s) of Recommendation
NCOERs/OERs/1059s (Required for Officers)
Once you have compiled all of your necessary documents, you must e-mail everything to jtfes.jobs@us.army.mil. In the title of your e-mail you MUST put your full name and rank; if you are applying for a position at Camp Smith you must indicate that in your e-mail. All of your attachments MUST be saved with your rank, last and first name i.e.: SGTSnuffyJoe_DA705.doc; CPTSmithJane_Qual.doc; SrADeanBrian_Resume.doc
Please ensure that you follow these instructions, lack of attention to detail will make you ineligible for consideration.
Applications and inquiries will only be accepted electronically via e-mail. Phone calls or faxes are not accepted unless you are instructed to do so by an Applicant Coordinator.
No later than one (1) week after your application has been received, you will be e-mailed a receipt. If you are found to be qualified you will receive a call from an Applicant Coordinator. Please keep in mind that there is no specific timeframe for an applicant to be contacted after the initial receipt.
If you will be called in for an interview you should expect the following:
Your height and weight will be tested to ensure that you are in compliance with Army or Air Force Physical Fitness Standards
Meet with an interview panel
Get fingerprinted and undergo a background check
After you are notified that you passed the initial hiring interview (usually within a week from your interview), you will be required to do the following:
Take and pass the Army Physical Fitness Test or Air Force Physical Fitness Test (depending on your branch of service)
Wait for placement in a Company or Detachment (anywhere from 0-60 days from your PFT date)
Keep JTFES applicant coordinators informed about anything that may change your application status or if you are no longer seeking temporary duty with JTFES.
Please note that Officer applications are accepted on a rolling basis.
All application are removed from JTF-ES database after six months. Please re-submit your application if you have not been contacted for an interview within that timeframe.
Thank you for your interest in Joint Task Force Empire Shield.
To contact the JTFES office please email jtfes.jobs@us.army.mil DO NOT CALL unless instructed by an Applicant Coordinator via email
State Active Duty benefits can be found here.